Geoblocking, also known as geo-restriction, is the act of completely blocking or limiting access to internet content based on the physical location of the user. Geo-blocking is a common tactic used by international media streaming companies to protect licensing deals.
Below I'd like to dive into a deeper explanation answering the questions what is geoblocking and what is geo-restriction, why they exist, whether or not it's legal, and how you can easily defeat it.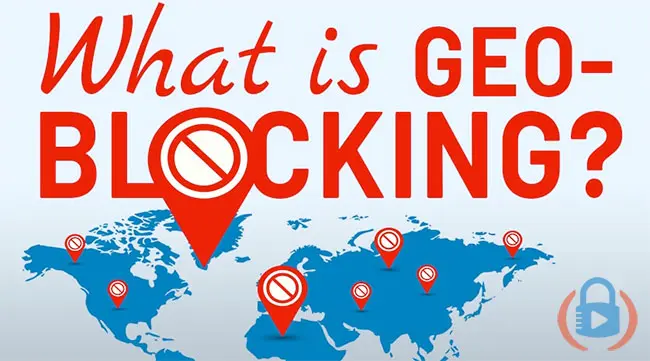 Before we go in and answer all the common questions about geoblocking and geo-restrictions, let me give a quick example of how geo-blocking works in real life.
I am an American citizen who currently lives in Thailand. While I enjoy many things about the Thai culture, I admit that I still love listening to my favorite music and watching my favorite shows from back home.
GeoBlocking: When I open up Pandora, a popular music streaming app for which I am a paying subscriber, I receive a message telling me "Pandora is unavailable in this country…" I was blocked from listening to content I paid for because of my location in Thailand.
Geo-Restriction: When I open up Netflix in Thailand, although most of the content is the same, a few of my favorite shows are not available like they are in the U.S. I was restricted from watching certain shows and movies, despite being a paying subscriber, because I am located in Thailand.
Here are the primary questions I'm going to cover, and you can click on the links to jump immediately down to that section:
That should cover the most important things you need to know about geoblocking and geo-restriction. If you just want a quick answer, my recommended way to bypass any kind of geographic blocking is using a VPN like ExpressVPN. It works well and is easy to set up.
Now, let's dive into the answers to all of these questions.
Note: Some of the links in this article may be affiliate links, which means that at no extra cost to you, I may be compensated if you choose to use the services mentioned.
Why Does GeoBlocking Exist?
Answering the question "What is Geoblocking" is pretty easy…
…but why in the world does it even exist?
Geoblocking exists because of licensing agreements and internet censorship.
Streaming services like Netflix, Hulu, Pandora, and many others license the content that they offer for streaming online. These licensing agreements dictate exactly where in the world the shows and music can be streamed.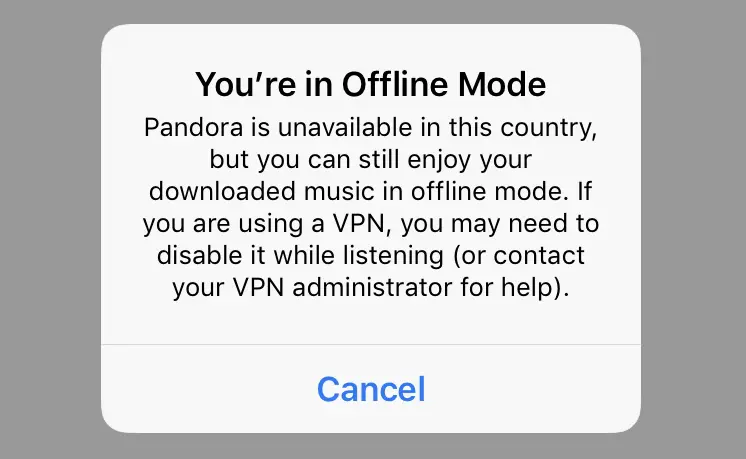 When you log on to your favorite streaming service, your location is shared and the video/audio library is either restricted or entirely blocked based on how the agreements were drawn up.
In the end, it's really all about the money.
Media producers (movie studios, music labels, etc.) can charge more for licensing based on the size of the available audience.
More countries = more money.
However, the big streaming services know exactly where certain types of content are popular in the world and are only willing to pay for territories that will benefit from having access.

In the end, these licensing agreements are a balancing act between the supply (the type of content offered) and the demand (how desirable that content is in each country).
If you're thinking to yourself "This is dumb"…
…you're absolutely right.
Unfortunately, just because it's ridiculous doesn't make it illegal.
Is Geo-Blocking Illegal?
No, geoblocking isn't illegal. On the contrary, it is the result of legally-binding contracts agreed to by the streaming companies (Netflix, Hulu, Pandora, etc.).
That said, it's understandable to be angry when you can't watch a show or listen to music on a service that you paid for!
However, as the landscape of online streaming changes, there's a good chance geo-restriction won't even be necessary in the future.
Over the past few years, media companies have become wise to the fact that it's profitable to own both the content and the platform.
This is why services like Disney, Apple and Amazon have poured billions of dollars into producing their own movies and TV shows.
If the same company owns both the content and the platform, it's in their best interest to make it available globally.
This fragmentation will is slowly ending the rein of the geo-restriction practice.
EXCEPTION! (Censorship vs Geoblocking)
Is Bypassing Geoblocking Illegal?
As people search for ways to bypass these blocks, it's natural to wonder if it's illegal to do so. For example, is it illegal to stream The Office on Netflix in another country while living in the US (where it's no longer on the platform)?
The short answer is no, bypassing geoblocking is not "illegal", per se.
However, many streaming services consider it a violation of their terms of service to bypass geo-restrictions. It's not illegal, but it's technically against their company rules.
Bypassing content blocking may be a violation of a service's Terms of Service, but it is not illegal.
In theory, they could terminate your account if they catch you circumventing their rules…but they probably won't (since you're a paying customer).
In practice, streaming services use this as an excuse to actively try to block methods to bypass geoblocking. They know what you're doing isn't illegal, but they want to discourage you from doing it anyway.
This is why it's important to find the best service to do so.
How Do I Beat GeoBlocking & Geo-Restriction?
If you're one of those people that travels internationally or lives in a country with internet censorship (i.e. China, Russia, Saudi Arabia, etc.), the good news is that there is a way to unlock these restrictions.
The solution is something known as a Virtual Private Network, or "VPN" for short.
Best VPNs to Bypass Geoblocking
ExpressVPN: Overall, one of the most highly-rated VPNs on the market. Secure connections and generous money-back guarantee.
NordVPN: Extremely reliable service to stream content for almost every available streaming platform.
Surfshark: A newer service that has made a name for itself by offering unlimited simultaneous connections and low pricing.
VPNs were initially developed by corporations to encrypt data between computers in two different locations.
For example, if a company wanted to send sensitive data from their offices in China to their headquarters in the U.S., they would use a good VPN to hide the data in China and make sure the data couldn't easily be stolen in transit.
However, the technology has been modified for individual use now. The application goes beyond just encryption of data – although that's important!
Using a VPN to Beat Restrictions (Examples)
By connecting your computer or mobile VPN to a server in another country, you can access the internet as if you were located in that other country. It's an easy way to bypass these blocks and avoid the geo-restriction of content.
Let's walk through a real-world example here.
Pandora: Remember the story I shared above about how Pandora told me I couldn't stream music in Thailand? Well, when I connect to an ExpressVPN server in the U.S., then open the Pandora app, the app thinks that I am in the U.S.. It then allows me to listen to music.
Netflix: The same thing goes for Netflix. In fact, I can connect to different countries to watch certain shows I like, which is how I can watch The Big Bang Theory on Netflix or stream Modern Family on Netflix.
There are a number of great reasons that you might want to use a VPN for streaming, and this is considered one of the biggest.
There are literally hundreds of VPN apps you can find, and some that claim to be free – but there are good reasons not to use a free VPN.
Most quality VPNs only cost a few dollars per month, so it's worth the fee.
Best VPNs to Bypass Geoblocking
The VPNs that I recommend for evading geographic blocks are listed below.
You subscribe to the service for a year, install the VPN on your mobile device or desktop, and then connect when necessary.
ExpressVPN | Best Overall VPN for Streaming
SPECIAL! Use the button above or this link to ExpressVPN to get 3 months free when you purchase any annual subscription.
NordVPN | Best VPN Apps on the Market
I've used NordVPN for years and it is regularly rated among the best VPNs not just for streaming movies and TV shows, but for most any encryption need.
Surfshark | Best VPN for Unlimited Devices
Unlimited devices;
Unblocks Hulu, Disney+, Netflix & BBC;
Option for split-tunneling;
30 Day Money back guarantee;
This is the newest VPN of the bunch, but I've come to really appreciate the amazing features they offer in their app.
In my experience, I rarely have problems with streaming services recognizing that I'm using a virtual private network while on Surfshark. This is possibly due to their relative young age, which means that their IP addresses haven't been flagged yet.
Final Thoughts | Unlocking Streaming
What is Geoblocking? In short, it's a means of restricting your ability to access content internationally, which can be extremely annoying.
Most of the time, this is done because of licensing agreements, although there are some countries where blocking is done on a national level (i.e. China, Russia, North Korea, etc.).
In each of these cases, the use of a VPN such as ExpressVPN, NordVPN or Surfshark will allow you to circumvent the restrictions and blocking, allowing you to stream the content you want, when you want.
It doesn't just happen when you are wanting to watch your favorite show, it can even happen when you are trying to make friends but get blocked on Omegle.
These blocks are inconvenient, but the solution of using a VPN is easy.