What is the best VPNs for streaming in 2023? Whether you're an expat living overseas or just somebody trying to access the content library of another country, using a Virtual Private Network ("VPN") isn't just a luxury…it's a necessity. But speed and location are key, and these are the best VPNs that will allow you to keep watching your favorite movies and TV shows.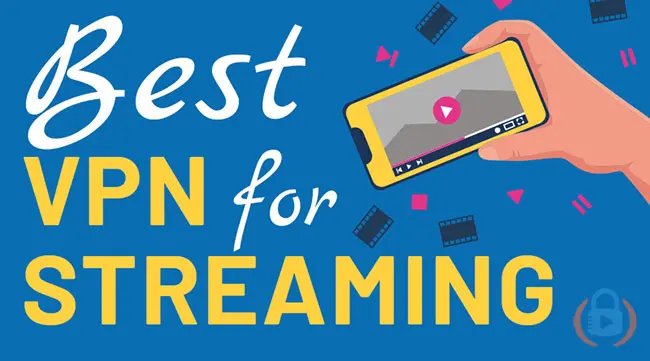 When we talk about the best streaming VPN, one of the first reasons most people think about this is Netflix. Of course, there are other services as well:
…Hulu
…Amazon Prime Video
…HBO Max
…Disney Plus
…and many more.
But none of them is as big as Netflix.
Netflix has entered the market in almost all countries of the world. But it offers different libraries in different countries. For example, Morocco has only 2% of the content library size compared to the US.
This is just unfair!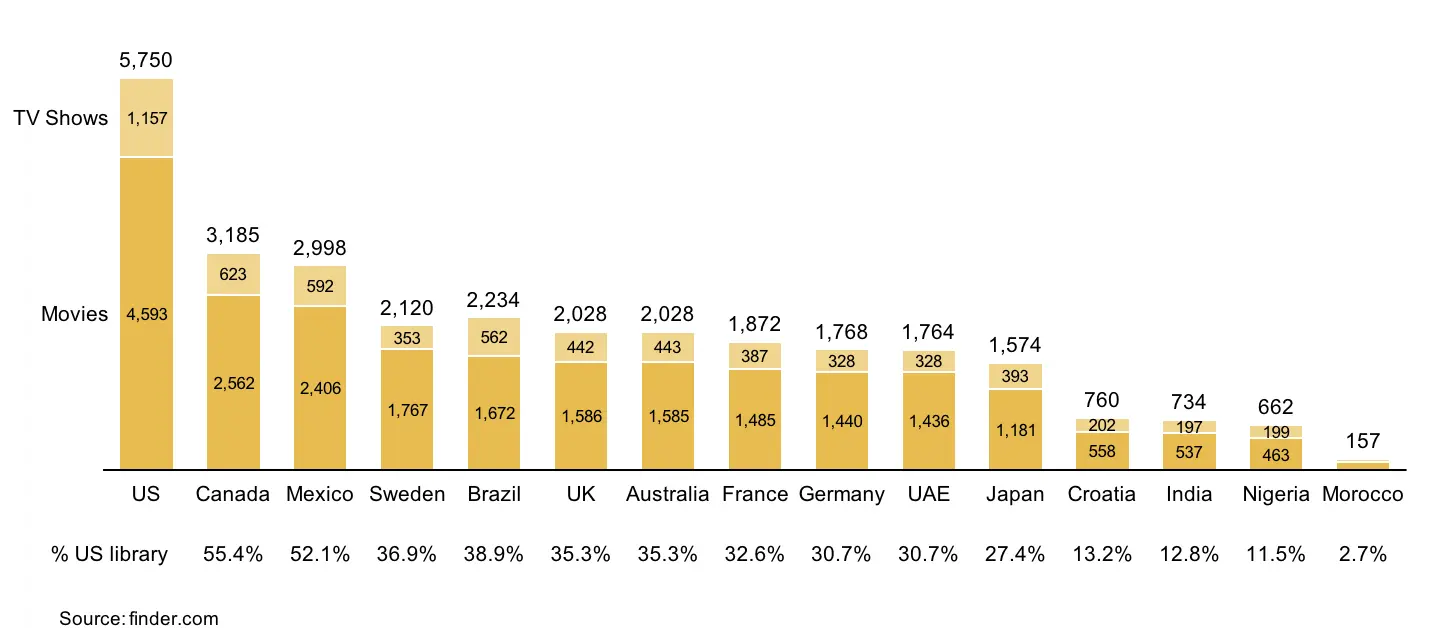 To make sure they get access to the entire Netflix content library or even be able to stream Disney+ anywhere in the world, a lot of people use a VPN.
Below is a quick breakdown of the best VPNs for streaming, but I recommend you continue reading to learn more about the features that make these services worth using.
Best VPNs for Streaming in 2023
Whichever VPN you use, the key for streaming is a fast connection to avoid buffering. Also, it must have servers in the country of your choice.
But these are not the only considerations. We're going to cover some features of the best VPN for streaming.
Use the navigation links above to jump to a specific section, or continue scrolling to read more.
Enjoy!
Note: Some of the links in this article are affiliate links, which means that at no extra cost to you, I may be compensated if you choose to use one of the services listed here.
Key Features of the Best Streaming VPNs
I've already covered an extensive list of essential VPN features you should consider as you research the best service.
What I want to do here, however, is focus specifically on those features that make a service the best VPN for streaming content online.
Speed: The first feature is obviously speed. If a VPN is slow, you'll experience the annoying buffering we all hate. But how do you know if a VPN is fast? Honestly, it's hard to tell (and they all claim to be the fastest). You have to go by recommendation, unfortunately, but you should also test for yourself and don't be afraid to get your money back if you're not satisfied.
Connection Protocol Options: Services offer different VPN connection protocols that can be used to encrypt your data. Some are better for security (but poor on speed) while others are blazing fast (but poor on security). The best VPN for streaming not only gives you multiple protocols, it also allows you to choose which one you want to use.
International Server Options: Most VPN services have servers spread across the globe, but you'll want to check to make sure they have enough server locations in the countries where you'll want to be streaming content from.
Platform compatibility: If you're planning to stream movies on your smart TV, then you'll need a way to connect that TV to a VPN. The best VPNs for streaming not only have apps for these kinds of devices, they also allow you to configure your WiFi with the best VPNs for routers.
Ease of use: Does the VPN company provide an app? An app is generally easy to install and use. On the other hand, manually configuring a VPN can be difficult or time-consuming.
While most consumer VPN services have most of these essential VPN features, some do it better than others.
If you're looking for my recommendation for the best VPN for streaming, then continue reading.
Best VPN for Streaming TV and Movies in 2023
There are a number of VPNs that will help you stream your favorite shows, but which ones are the best?
Let's take a look at the top 4 best VPNs for streaming movies and TV shows.
ExpressVPN – Overall Best Streaming VPN
ExpressVPN can help you unblock a number of streaming sites such as Netflix, Hulu, Amazon Prime Video, Disney+ and BBC iPlayer.
It offers fast speeds and unlimited bandwidth, which means you can stream as many movies as you want without getting throttled in any way. They also have great software to install the VPN on your router or on a media streamer like Amazon's Fire TV.
As with many of the services listed here, ExpressVPN offers split tunneling as a feature. This means that you can use a VPN to stream your video content while you browse the rest of the internet VPN-free (which is also faster).

ExpressVPN is a premium service that also comes with premium pricing. Thankfully, though, they offer a 30-day money back guarantee so if you're not satisfied, you can always claim a refund.
Surfshark – Best Value VPN for Streaming
Surfshark is a relatively new VPN service (2018) that has made a name for itself by offering unlimited simultaneous connections, access to 15 Netflix libraries and even an ad-blocker as standard features.
Surfshark offers the IKEv2, OpenVPN and Wireguard protocols as options, and the speeds have been consistently fast. They have a number of other great features which I've detailed in my Surfshark review.
What makes Surfshark so attractive to most people, however, is their extremely low monthly costs. They've made a name for themselves and gained a significant market share with their extremely competitive pricing.
NordVPN – Best Apps for Streaming
NordVPN is listed as the best VPN for streaming not only because of its beautiful app design, but also because that app is offered on more devices than anybody else.
All of the major streaming services are unlocked when using NordVPN and they're known for their high speeds no matter where you are in the world.
If you want to stream on your Apple TV, Roku, or gaming console, you can set up NordVPN on your router and connect with it. With its military grade encryption, you are always protected as you connect to the VPN.
NordVPN lets you connect up to 6 devices on a single connection so you can cover all your devices with just one license.
CyberGhost – Best SmartDNS Options for Streaming
CyberGhost offers a number of servers in its network that are optimized for streaming content. It offers good speeds and unlimited bandwidth with coverage in 90 countries. But what's really great is that they're one of the few services that offer global DNS options for their SmartDNS service (included with a VPN subscription).
I've already covered a lot of details about the service when I compared CyberGhost with NordVPN, but suffice to say it held its own.
CyberGhost is listed as a top VPN for streaming because it has apps for all major platforms to let you stream smoothly and effortlessly.
This includes apps for Android TV and Amazon Fire Stick as well.
Frequently Asked Questions About VPN Streaming
Below are some of the most common questions I hear about watching online content and the best VPN for streaming.
Do you need a VPN for streaming?
Not always. You can stream content without a VPN. But if you want to access a library that's outside your home country, you'll need to use a VPN. For example, if you live in Australia and want to watch Hulu, you'll need to connect to a US IP address for that.
Can I use a VPN for Netflix?
Yes you can! But Netflix doesn't like it when you do. It's constantly on a lookout for VPN IP addresses and keeps blocking them. But since VPN providers keep bringing new IP addresses that are not yet recognized by Netflix, you can still use them to watch your favorite movies and shows.
Can I stream Disney+ using a VPN?
Yes, you can! Disney+ isn't available in all countries and they're extra vigilant about blocking VPN access. However, the best VPNs for streaming can still connect you from anywhere in the world (even if it takes a couple tries on a few different servers).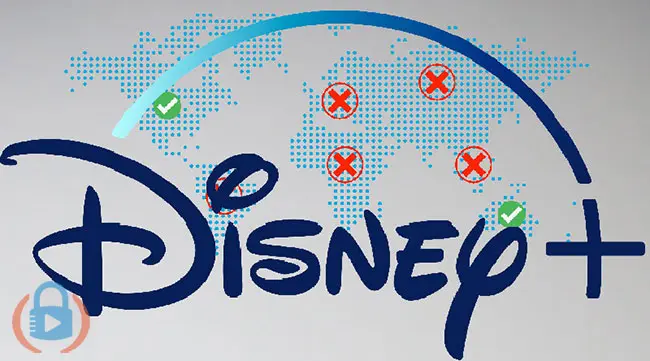 What is the best VPN protocol for fast streaming?
The more secure the connection protocol, the slower it will be (such as OpenVPN). If you want the fastest protocol, it will have the lowest level of encryption. Protocols like PPTP or L2TP aren't as secure, but they're much faster options for streaming.
How does Netflix know I'm using a VPN?
If different people call you from the same phone number, you'll know it's a payphone. Similarly, when Netflix gets a lot of requests from the same IP, it flags that IP as a VPN or proxy IP. When a particular server is flagged, the VPN provider will generally bring another IP to let the users enjoy unrestricted streaming.
Why not use a free VPN for streaming?
While a free VPN may work for streaming, these services are the first to get blocked by content services and the slowest to respond (it's free, after all!). There are a number of freemium VPNs worth trying, but in most cases the speeds offered aren't fast enough for quality streaming.
Final Thoughts on Streaming Content with a VPN
Streaming services like Netflix, Disney+ and others geoblock their content. The best VPN for streaming is the one that continues to play that game of cat-and-mouse to give you access to the content at all times.
What's more, a VPN offers encryption and protection while you're browsing the internet.
If you're trying to access the library of another country or if you just want to secure your activity online, I recommend you try services like ExpressVPN, Surfshark, NordVPN or CyberGhost.
Each of these services allow you to bypass content restrictions by giving you the fastest connections to servers all over the globe. It's the same features that make them a good VPN for gaming as well.