What is the best VPN for gaming in 2023? Not every virtual private network is optimized for a quality gaming experience but it's difficult to know that without trying them first. Ultimately, speed and low latency are key for gamers, in addition to protection from annoying DDOS attacks. And that's why why I'm specifically highlighting these features for you to consider.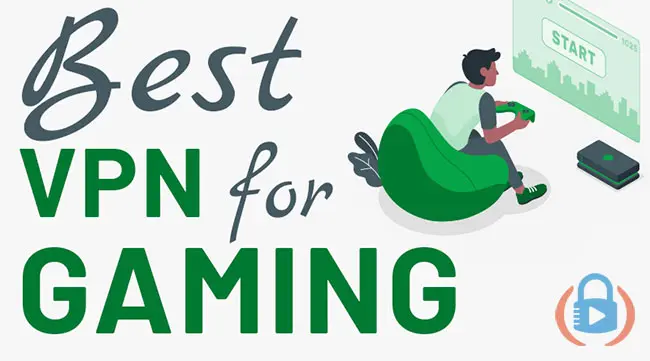 When you're an online gamer, the two things that matter the most are speed and stability of the network. You need a fast and stable connection that provides low latency to have the best gaming experience.
Encryption and re-routing a connection will by nature slow down your internet connection. There's no getting around this fact.
However, a good gaming VPN optimize their servers to reduce ping times and reduce lag. Best of all, they allow you to join tournaments that are not available in your location or play games that haven't yet been released in your country 🙂
Before we dive into greater details, here's a quick breakdown of the best VPN for gaming:
Best VPN for Gaming in 2023
A virtual private network will enhance your gaming experience and also make sure that your connection is safe and nobody gets to read your data.
Of course, the list above doesn't really explain what makes these good for gaming, so we're going to dive into more detail. Use these links below to jump to a specific section or keep scrolling for more.
A VPN can be beneficial to a gamer, which is why you'll see several gamers use them. But they're not all equal.
Let's see what makes for a good gaming VPN.
Note: Some of the links in this article are affiliate links, which means that at no extra cost to you, I may be compensated if you choose to use one of the services listed here.
Key Features of the Best Gaming VPN
Let's face it, while every company claim to be "the best" and often boast many of the essential features every VPN needs, they don't always work well for gaming.
For a service to be a good for gaming, there are some very specific needs that need to be met. These include:
Speed, Speed, Speed: The first thing you should look for is speed. There's no point in getting a VPN if you're getting lag. Anything can happen in a moment in online gaming and you can't take that risk. So make sure the one you select offers the best speeds.
Unlimited bandwidth: While pretty much all services offer unlimited bandwidth nowadays, there are still a few don't. Since games take up significant amounts of bandwidth, you'll consume a couple of gigs in a few minutes. A limit on bandwidth is an automatic no-go for gamers.
Free trial or money back guarantee: What if you purchase a subscription because you fell for their claims of high speeds but later found out that their speeds are decent at best? If a VPN offers a free trial or a money back guarantee, you'll be able to test the waters without risking your money. If you don't like the services, just claim a refund.
Number of servers: If a virtual private network has only a handful of servers, when those servers get overloaded, the speeds will decrease quickly. This is why it's important to have a gaming VPN that has a large network of servers to choose from.
Reliability: There are many VPN companies that provide high speeds but they disconnect pretty frequently. Reliability is important because if the connection goes down in between, not only will it reveal your real identity but it will affect your gameplay.
Platform compatibility: All gaming consoles come with online capabilities and you either jump onto WiFi or connect them directly to your router. This is one of the reasons why it's best to search for the top router VPN when considering what's best for your gaming.
Security features: If you run your own dedicated championship server, you'll need to get the right protection to secure it against possible DDoS attacks. For this, you'll need to consider the encryption and security features available. OpenVPN with AES-256 bit encryption is considered very secure.
Kill switch: Game distributors like Steam will block your account if they find that you're using a VPN. So make sure you get a service with a VPN kill switch so even if the connection goes down, you are still protected.
That may seem like a lot, but thankfully it's easy to find a good VPN for gaming that offers each of these features at a reasonable price.
Best VPN for Gaming in 2023
There are literally thousands of virtual private networks on the market today, but not all of them are great to be used during game play.
Below we're going to list the top four gaming VPN in the market.
NordVPN – Best Overall VPN for Gaming
If you only choose one service on this list, NordVPN is your best bet. I'm rating it here as the best overall VPN for gaming thanks to a number of different features and benefits.
First, NordVPN is DDoS protected, providing an uninterrupted gaming experience. Also, since NordVPN beats bandwidth throttling, it's been reported that some users experience speeds better than before.
NordVPN has over 5200 servers all across the globe and you can easily find the server with the lightest loads to get the best speeds.
Apart from that, NordVPN is reliable and offers the highest available encryption. It comes with a kill switch and can be configured on your router.
You can read more in my full review of NordVPN, but suffice to say it is a good choice for gaming.
Surfshark VPN – Best Value for Gaming
Surfshark boasts fast servers to help you have a lag-free gaming experience. But almost equally important: they are the cheapest VPN for gaming option on this list.
If budget is a big concern for you, Surfshark might be a good option.
The service protects you from DDoS and other attacks. Hide behind any IP from their network and get geo-restricted games. With 1040+ servers all over the world, the network should be enough to support your gameplay.
Surfshark has apps for all major platforms and it can be installed on your router. If you'd like, it also offers a split tunneling feature that allows some traffic to pass through an encrypted channel while the rest of the traffic can go on the regular unsecured internet.
Read more about this newer option in my review of Surfshark.
IPVanish – Fastest Gaming Option
IPVanish provides high speed connections, no bandwidth limits and over 40,000 available IP addresses across the globe to choose from.
You might have noticed that they only offer a 7-day money back guarantee, which is unfortunate when the industry standard seems to be 30 days. However, a week is more than enough time to get a feel for the speed of their servers and whether or not it will work as a good VPN for gaming.
As with all of these companies, even when you compare IPVanish to NordVPN, if you make in-game purchases, they will keep your transactions encrypted and safe from general hacking. It's a reliable service that doesn't face frequent disconnection issues and also offers 256-bit encryption for better security.
Finally, since IPVanish also has the kill switch feature, you'll be protected from any accidental IP leaks. Read more in my IPVanish VPN review.
PureVPN – Co-Fastest Gaming Option
PureVPN has earned a bad reputation for getting caught red-handed lying about their zero-log policy. They've made changes and updated their data logging practices in the years since, but I realize that some people still won't feel comfortable using a service like this.
I get it. BUT…
…they've come a long way and their service now makes for a really good gaming VPN. Their servers provide good speed, the connection is reliable and, best of all, they offer a number of great security features.
For example, PureVPN comes with a kill switch and split tunneling features. Also, it has high grade encryption to ensure your connection is secure. It offers a 31-day money back policy so if you don't like its services, you can claim a refund.
PureVPN can be installed on your router and you can connect your gaming console with it.
FAQs About Using a Gaming VPN
There are a number of common questions about using a virtual private network for gaming that I'd like to answer quickly here.
Does a VPN improve my ping and gameplay?
Sometimes, but not usually. In most cases, you'll notice a speed drop when using a VPN. Since your data is encrypted and sent through an extra server, it takes more time. In some cases, however, they can improve ping by bypassing ISP throttling.
How do I use a VPN for gaming?
To use a VPN on your gaming console, you need to install the software on your router and then connect your console to the router. This can be done either over ethernet or WiFi. If you're playing on a computer, you can download an app directly to the computer to connect.
Is a VPN good for gamers?
Some games are more expensive depending on your location. For example, when you play on Steam, you might notice that some games cost different amounts in different countries. If you connect to a gaming VPN and buy the game from another location, you can save on the purchase. Also, some tournaments are only available in specific countries. If you want to participate in those tournaments, you'll need to change your IP address.
Is it legal to use a VPN when gaming?
Yes it's legal, but it may go against a company's terms of service. For example, some game providers like Steam don't allow VPNs and if you're caught, you'll get banned. This is why it's important to get a VPN that doesn't leak your IP. Make sure the VPN you get comes with a kill switch.
If I travel abroad, will my VPN work there?
Yes. Just connect to the same servers like you used to. To the gaming server, your IP will remain the same even if you're in a different country now.
How to Choose the Best VPN for Gaming
When you choose the best VPN for gaming, just like when you're choosing the best VPN for streaming, your primary feature is going to be speed and IP address security. If the service doesn't offer the best speeds, there is no point in getting it.
The second thing you need is reliability. If your connection drops just for a second, your character can be killed in a first-person shooter game.
There are certainly some drawbacks to using a virtual private network. More often than not, the speeds are going to drop, even if the difference is minor. But then, there are several reasons for using a VPN for gaming.
There may be some cases when the ping time is actually improved. If that happens, your experience will be better than without a gaming VPN.
If you want unrestricted access, you'll need a virtual private network. It will unblock games that aren't available in your location yet. You can also enter championships from other regions. For example, Fortnite is banned in China and Iraq.
If you are traveling to these countries and want to play uninterrupted, you'll need to use this kind of service.
And it will not just offer you all these game playing advantages, it will also keep you secure and anonymous whenever you go online. Since there are a number of good VPNs in the market, it's advisable to read a few reviews to understand if it fulfills your requirements or not.