Your devices are assigned what are known as "dynamic IP addresses" when you access a network, which means that the address changes each time you log on. There are times, however, when a static or dedicated IP address is preferred. Here's an explanation of what that means and a list of the best dedicated IP VPN in 2023.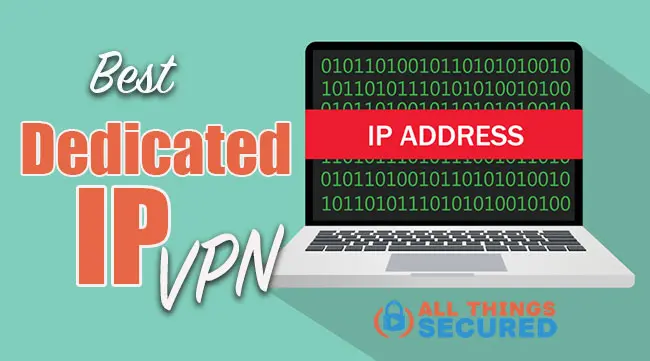 While we'll go into greater detail below, here's a quick summary of what you need to know about the pros and cons of a dedicated IP VPN and which companies I recommend.
Summarizing a Dedicated IP VPN
Some VPNs allow their customers to request an individual IP address that will not be shared by other users. This address still hides your real IP address but doesn't come with the risks associated with a shared IP.
Pros
---
Less risk of being blacklisted;
Fewer requests for added verification;
Secure online payments with banking;
Access private systems securely;
Cons
---
Usually an additional cost;
Easier to track (less anonymity);
Usually limited global server options;

Not every VPN service offers a dedicated IP. I recommend either NordVPN or PureVPN, both of which offer a static IP add-on.
Now let's take a few moments to better understand what this all means and how these pros and cons will really affect you in day-to-day usage of a dedicated IP VPN.
If you're in the midst of doing your research on different VPNs, this is one of many different features you should consider.
Even if you decide against buying the static IP add-on now, if you think it might be of benefit later, it's worth investing in a VPN that offers it.
Note: Some of the links in this article are affiliate links, which means that at no extra cost to you, I may be compensated if you choose to use one of the services listed.
What is a Dedicated IP Address?
A dedicated IP address is a unique number assigned to your device or website that identifies it on the network, usually the internet. This is different than a shared IP address (often associated with low-cost web hosting) or a dynamic IP address (most often used with virtual private networks) since it is a static address.
To better understand dedicated IP, it's easier to compare it with other types of IP addresses and how they're used.
For example, you can have a:
Shared IP Address: Most low-cost web hosting services store multiple websites on a single web server, which means that all of the websites share the same IP address.
Dynamic IP Address: A similar but more common form of IP sharing is known as "dynamic IP" addresses. Services like Virtual Private Networks (VPNs) or even your Internet Service Provider (ISP) have a pool of IP addresses from which they grab and assign each time you log on. This address changes every time you use the service, and sometimes changes even as you're using it.
Static IP Address: This static IP address, which is the same as a dedicated IP address, is one that remains fixed to one particular network device. That could be a server, a computer, a phone or tablet device.
There are various pros and cons to each type of address, but they all hinge on one simple concept:
Do you want your device to be identifiable on the network?
Benefits of a Dedicated IP VPN
Why would you want a dedicated IP VPN anyway?
There are three primary benefits of dedicated over shared:
Less risk of being blacklisted by streaming / gaming services;
Fewer requests for verification (logins & banking);
Ability to access private networks and systems remotely;
We're going to cover each of these in more detail below.
Less Risk of Being Blacklisted (Streaming & Gaming)
The problem with shared addresses is that they're easily recognizable, even if they do offer some level of anonymity.
So streaming services like Netflix, Hulu, Disney+ and others usually have a database of these shared IP addresses and block access to any device that is using them.
Perhaps you've seen it before, the message that says: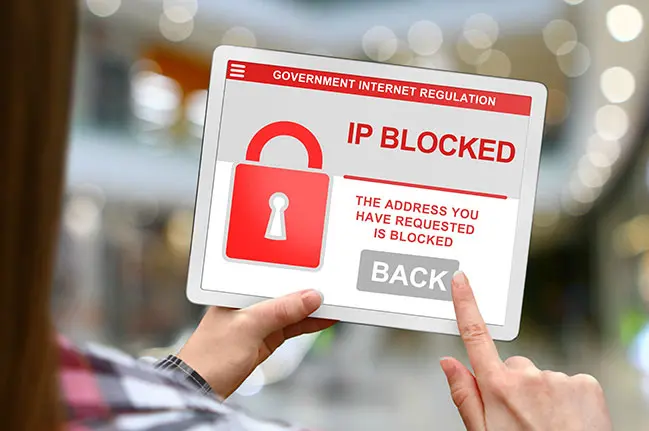 With a dedicated IP VPN, you are assigned an IP that is outside this pool of shared addresses and is therefore less likely to be blocked.
Streaming and gaming services are less likely to block your access because they see it as a unique address.
Fewer Requests for Verification (Logins & Banking)
When your address it always changing, it's hard to verify that you are who you say you are.
For this reason, it's very common when using a shared IP VPN that your banking and other logins require further verification. At times, I've spent up to 2-3 minutes answering silly CAPTCHA questions to verify that I'm a real person.
With a dedicated IP VPN, your bank or other online logins will begin to recognize your address because you'll be using the same one each time you log in.
With few exceptions, you'll no longer be asked to verify your identity or play a dumb CAPTCHA game.
Access Private Systems & Servers Securely
Again, changing your IP address makes it difficult to verify that a device accessing a network is an authorized device.
Most private systems and servers restrict access based on this ddress. These are called "IP-restricted networks".
When you access the network, the system will match your address against their white list of approved devices. If it doesn't match, they won't let you in.
By using a dedicated IP VPN, you can maintain an encrypted tunnel through the internet while also accessing these private networks remotely. Your IP address will stay the same each time you log on, so it's easier to identify that you're allowed to be there.
Disadvantages of Dedicated IP / Static IP VPNs
Of course, every advantage for any system or product usually comes with an equal and opposite disadvantage.
The two major disadvantages of a dedicated IP VPN is:
Additional cost
Less anonymity
So how would this affect you as a user?
Additional Cost + Limited Location Options
Many of the best VPN services don't give out static addresses to each user. It's just not practical to pay for that many addresses when users usually aren't accessing their service all at once.
What you'll find as you research the best dedicated IP VPN is that they each charge you extra for this service.
Not only will you be paying for the VPN subscription, you'll have an add-on fee for the static IP address.
For those who need it, it's a nominal fee that won't matter. For the average internet user, though, it might not be worth the charge.
What's more, your dedicated IP often limits you to a certain number of server locations (as opposed to the shared IP servers which span the globe).
The lesson here is to check which servers offer the static IP to make sure it's the countries where you want to use it.
Easier to Track (Less Anonymity)
The irony of a dedicated IP VPN is that it adds a somewhat identifiable number to a service that's supposed to make you anonymous (although a VPN isn't quite as anonymous as Tor).
Think of it this way…
When you use a regular VPN service, you're not only using a new IP address every time you log on, you're also sharing that IP address with millions of other users across the globe.
It's very difficult to track which IP was associated with which account at which point in time.
With a dedicated address, however, you're taking away this element of anonymity. There is now a specific number that is attached to your account and all activity can theoretically be traced back to you.
For those who aren't doing anything illegal, that's probably not a big deal (because companies usually claim a zero-log policy anyway).
But it does negate a primary benefit for using a virtual private network in the first place.
Top 4 Best Dedicated IP VPN Services in 2023
Not every virtual private network offers a dedicated IP add-on service.
If you're looking for the best dedicated IP VPN, these are four that I recommend you look into.
Each VPN listed here not only offers a static option, it's also a quality service that I've used for the past few years with great success.
Dedicated IP with NordVPN (Recommended)
I've always enjoyed the app design of the NordVPN apps, and it's an added bonus that they provide an option for a static IP.
The address can be chosen from one of 5 countries (US, UK, Germany, Netherlands or France) and is renewed on an annual basis, like most dedicated IP VPNs.
Dedicated IP with PureVPN (Best Value)
The draw of PureVPN is that the dedicated IP add-on is only $.99/mo. As you do your research, you'll find that $12 a year is extremely cheap.
PureVPN currently offers dedicated IP address in one of the following countries:
Hong Kong
United States
United Kingdom
Singapore
Malta
Germany
Australia
Canada
It's a great selection of countries at a great price.
Dedicated IP with Surfshark (No Fee option)
While the Surfshark VPN doesn't offer a specific dedicated IP add-on, it does have a unique approach that might be helpful for those who don't want to pay the extra fee.
The Surfshark solution is to provide an option within the app to choose a static IP server, which means that each time you connect to that server, you'll get the same IP address.
This address will often get shared by other users who connect to that server later, so this isn't useful for those who want to access IP-restricted networks or banking, but if you want the VPN to access streaming or gaming services, Surfshark is a great option.
Ivacy VPN with Static IP
Similar to PureVPN, Ivacy VPN allows you to choose dedicated IP as an add-on during the checkout process.
Ivacy VPN offers static addresses from the following countries:
Hong Kong
Singapore
United States
United Kingdom
Canada
Australia
Germany
Unlike PureVPN, however, these addresses cost an extra US$1.99 per month on top of your regular VPN service fees.
Final Thoughts | Dynamic or Static?
Not everybody needs a static IP address. It's not worth the extra cost of the add-on.
However, for those who find themselves getting locked out of their games, streaming services, banking or networks because their address keeps changing…
…a dedicated IP VPN isn't just nice, it's necessary.
Take your time to weigh the pros and cons of the service to determine what works best for you. As I said before, even if you're not sure right now, it might be best to go with a service that offers it as an option for later.