Not everybody needs identity theft and credit monitoring services, but the fact is that most of us are too lazy to monitor ourselves. If you're looking around for the best identity theft monitoring services of 2023, here are the things you need to know.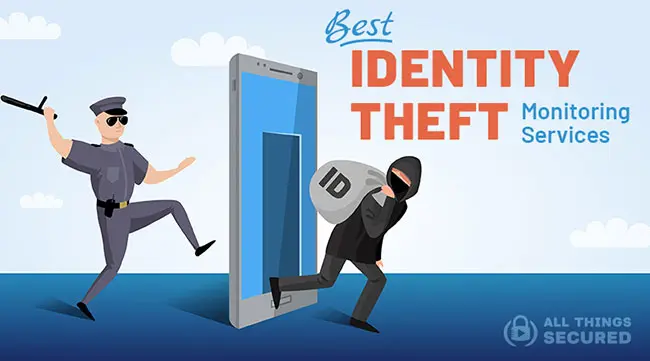 Identity theft cases are on an upward trend. The situation was already bad but the pandemic has made it worse with fraudsters taking advantage of people's increased online time and uncertainty to make a killing.
A report from FTC shows that the number of ID theft cases have doubled in 2020 compared to 2019. For those who are at risk, there has been no better time to get a dedicated identity theft protection service than now.
But who is considered "at risk"?
And with so many options available on the market today, which are the best identity and credit monitoring services to use?
Follow along as we look at the strengths and weaknesses of each solution and while also discussing who should and shouldn't use an identity theft monitoring solution.
Note: Some of the links in this article may be affiliate links, which means that at no extra cost to you, I may be compensated if you choose to use one of the services listed. I only recommend what I personally have used, and I appreciate your support!
Comparing the Best Identity Theft Protection in 2023
If you've done much research online, you already know that there are so many different identity theft monitoring services on the market today. Part of this is because there are a so many different kinds of identity fraud.
There are a handful of big brand names that you've probably heard before (Norton, McAfee, etc.) that offer monitoring services alongside their other primary services.
But for this list, we're looking specifically at companies whose entire business model is identity and credit protection. This isn't just one part of what they do…
…it is the only thing they do.
And instead of listing out ten or twenty different services to choose from, we've boiled it down to only four that you need to seriously consider if you decide that you need identity theft monitoring.
Identity Guard | Recommended Service (with AI)
Identity Guard is the service that I use to protect myself and my family. I've tried quite a few different monitoring services, and there are a number of reasons why I've settled on Identity Guard as my company of choice.
First, have you heard of IBM® Watson™ AI? It's a high achieving AI that, to single out one of its major feats, has helped doctors diagnose cancer patients.
Well, it also happens to be the AI used by Identity Guard® to scan for potential identity theft cases and one of the reasons over 47 million users trust the service.

That and the fact that Identity Guard has top professionals who will help aid you through the account recovery process if your identity gets stolen.
Additionally, with an insurance cover of up to $1 million dollars, you don't have to worry about using your own money to recover your stolen accounts.
A subscription to Identity Guard® will allow you access to the solution's safe browsing tools that protect you from scammy websites which are further reinforced through an anti-phishing mobile app to flag down phishing scams.
Monitor with Identity Guard
Save up to 40% with this link:
IdentityForce: Excellent Family Identity Monitoring
The next identity monitoring service I'll share here is IdentityForce.

All the solutions in this list have a family package, but I found IdentityForce to be the most feature-rich. It does not have a limit on the number of kids you can cover and is currently priced at $25 for the UltraSecure plan which only offers identity theft protection.
If you want to include credit monitoring, you will need to upgrade to the UltraSecure+Credit plan. The credit monitoring is something you can do on your own by getting your free credit reports, but if you don't have the time to do that, the upgrade to monitor credit is worth it in my opinion.
The upgrade will also allow you access to the IdentityForce credit improvement simulator that helps you boost your credit score by advising you on how different balances, payments and money transfer affect your score.
Benefits of Using IdentityForce
Even if you don't decide to make use of credit monitoring, the UltraSecure plan offers some great benefits including:
Sex Offender Monitoring: IdentityForce notifies you in case a registered sex offender moves into your neighborhood.
Anti-Phishing App: The service also comes with an anti-phishing app that has been programmed to recognize and protect you against common phishing scams.
Recovery Experts: In the event that fraudsters take over your identity, IdentityForce boats of trained experts that will help you to quickly recover your account.
Recovery Insurance: You won't incur any cost in the recovery process since the monitoring service comes with up to $1 million in insurance coverage.
Protection with Identity Force
Try with a 30-day free trial
I found it a little disappointing that IdentityForce does not allow you to contact support through their iOS app but was also impressed that the app comes with a mobile control feature to protect your device against spyware and suspicious networks.
IdentityForce is A+ by the Better Business Bureau.
LifeLock – Best with Antivirus
LifeLock is another great identity theft monitoring service that comes bundled with Norton 360 antivirus for complete protection online. You can opt not to use the antivirus though.

Now here is where things get interesting. Some years back when LifeLock was being launched, the CEO was so sure about his product's ability that he published his social security number online.
I do not recommend you do the same.
His identity was stolen at least 13 times. Proof that a premium identity theft monitoring service does not guarantee full protection. On the upside LifeLock's agents were able to swiftly recover the stolen identity and correct his credit report without him incurring any cost.
This is the same type of service you should expect if your account ever gets compromised.
Unlike IdentityForce, LifeLock does not include a dedicated family plan. instead, it offers a LifeLock junior plan separately that is currently going for $5.99 per kid.
If you or your kid get your movies, apps, or music from torrenting sites you will appreciate LifeLock's provision for monitoring the torrenting sites to ensure that your personal data is not compromised during the download process.
LifeLock includes an insurance cover of up to $1 million for when your identity is stolen. And, unlike most solutions whose insurance money only covers the cost incurred during account recovery, LifeLock insurance also covers money that you have lost through identity theft.
The service has a provision called Lost wallet in which they help you get a new drivers license, health insurance id card and other personal documents that may be used to steal your identity.
Get ID Protection & Antivirus
Save up to 25% on your first year
On top of identity theft protection, LifeLock also offers credit monitoring but you will have to opt for the top-tier plans if you want to monitor all three credit bureaus.
ID Watchdog – Best with Account Recovery
ID Watchdog is an Equifax owned solution which consequently means it offers credit monitoring on top of identity theft protection service. And, yes ID Watchdog supports credit monitoring on all three bureaus.

However, you only get credit monitoring if you subscribe to the top-tier plans. The basic plan only supports identity theft protection.
In case there is any suspicious activity that could lead to an account takeover, you can trust that ID Watchdog will send immediate alerts allowing you to act quickly so that you do not incur significant losses.
As expected of any top identity theft monitoring service, ID Watchdog comes with an insurance policy of up to $1 million to cater for the account recovery costs.
But, the biggest selling point of this solution is their relentless account recovery team that doesn't stop until your stolen account has been restored.
ID Watchdog comes with some affordable family plans that allow you to protect up to 10 dependents.
Features of a Good Monitoring Service
Here is what to look out for when shopping for the best identity theft monitoring service.
Monitors both identity theft and credit – It's not enough that a service notifies you when your identity has been stolen. It should also monitor your credit report to protect you against financial fraud.
Offers theft recovery assistance and insurance – Account recovery after an identity theft case is usually a draining task that will take up your time as well as finances. A good monitoring service takes this burden off your hands.
Has packages for individuals and family – Identity thieves could also hit your wife and kids. A great identity theft monitor comes with an affordable family plan so that you don't have to get a plan for each individual.
These are pretty standard features for most quality identity theft monitoring services, but you'll still want to double-check to make sure these are part of your plan.
Be sure to subscribe to the All Things Secured YouTube channel!
Do I Really Need Identity Theft Protection?
The truth is that there are some people who are at a higher risk of getting their identity stolen and these are the people that should prioritize getting identity theft protection. If you're somebody who has been hacked in the past or you're lazy about monitoring your own identity, it is worth using identity theft monitoring.
But, the thing about identity theft is that you don't imagine you will become a victim until you do. So, even if you are not subscribed to a premium monitoring service, here are some steps you should take to stay safe.
Check your credit report regularly to ensure you don't have any unknown debts that may be affecting your score.
Put a freeze on your credit so that it's impossible for anyone to open a new line of credit under your name without extra verification.
Always balance your bank accounts to detect any fraudulent charges or bank errors.
Identity Monitoring vs Credit Monitoring
Identity monitoring and credit monitoring are two different things but, they combine to facilitate more effective protection against identity theft.
To differentiate between the two, identity theft deals with monitoring whether someone else is using your identity while credit monitoring monitors your credit report for abnormalities.
If someone is using your stolen identity to open new lines of credit and steal from your existing credit accounts, it will be captured on your credit report.
Final Thoughts on the Best Identity Theft Monitoring Services
As you have noticed, each monitoring service has where it excels most. But, in the end, what matters is that you are protected. Any monitoring solution is better than none. Especially if you are a high-risk individual.
And as a high risk individual, you can take further steps to protect yourself by hiding your home address, using a secure alternative to your mobile provider, and much more.
It's also okay if you feel that you currently don't need a premium solution to stay protected. But, at least make sure you are implementing the steps I recommended.
That way you can quickly know if your identity has been compromised and prevent any further damage.