The average consumer doesn't know much about the three biggest credit bureaus: TransUnion, Experian and Equifax. But these credit bureaus know A LOT about you. Here's the truth about credit bureaus, how they make money and why you need to protect yourself.
Be sure to subscribe to the All Things Secured YouTube channel!
Obviously, the above video is a tongue-in-cheek, entertaining way of explaining one very simple idea: credit bureaus are for-profit companies that don't have your best interests in mind.
Let me give you a bit more detailed background information and then provide you with some actionable steps you can (and should) take to protect yourself.
Problem: Credit Bureaus Collect Your Data
Whether you created an account or not, whether you opted in or not – heck, it doesn't even matter if you like it or not – there is a file on you with each of the three credit bureaus.
Experian, Equifax, and TransUnion all track your spending habits, credit cards and debit repayments and they use that information to report on you and build a credit-worthiness score known as your credit score.
You have the right to see this report once a year (here's a guide to check your credit report for free) and third party lenders can buy access to your score before lending you money or approving your lease application.
But you don't have the right to ask them to stop tracking and collecting your data.
Trust me when I say they have a lot of data about you. This includes:
Your name
Your age
Your income
Your address
Your phone number
Your social security numbers
…and much, much more.
With all that information, they hopefully store all that data very, very securely. Right? So you don't need to worry about this data that you didn't give them permission to gather getting hacked, right?
Equifax Got Hacked – Your Data Was Leaked
Oops. Back in early 2017, because of a delayed framework update, 4 Chinese hackers gained access to the Equifax database.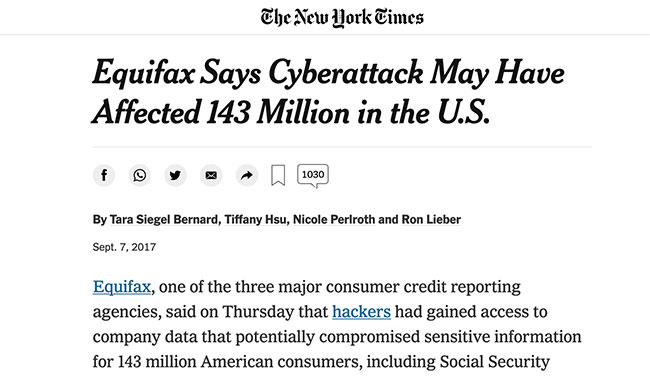 For 76 days, these hackers had unrestricted access to view and download as many files as they could. And they took full advantage of that until the breach was discovered and patched on July 30, 2017.
The damage had been done and later, once they were able to track everything the hackers accessed, the numbers were sobering.
147.9 million US Americans had their data stolen;
15.2 million British citizens had their data stolen;
19,000 Canadian citizens had their data stolen;
This was huge. Equifax would have to pay.
Fallout from the 2017 Equifax Hack
The fallout from the Equifax hack were quick and severe. The credit bureau's stock priced dropped more than 10% and several class action lawsuits were filed.
Even years later, the results of these lawsuits are still pending, but in the meantime Equifax offered to compensate those directly affected and gave free credit monitoring and credit freezes to anyone who requested it.
It wasn't enough. U.S. Congress stepped in.
In 2018, Congress agreed that all of the credit bureaus should allow consumers to freeze their credit for free, a service for which they used to charge $5 to $10/mo.
Remember, the credit bureaus are for-profit companies, and this cut into their profits immediately.
They would have to get creative in order to make up for this lost revenue source, and it all came down to how they framed the "credit freeze".
Credit Freeze? How About a "Lock" or "Alert"?
For credit bureaus, a credit freeze was problematic on two fronts. First, since it's free, they can't charge for a service they have to provide.
But second, and more importantly, a credit freeze prohibits the credit bureaus from selling other parts of your data to third parties.
You see, in addition to offering credit-worthiness profiles, these bureaus also sell your data to advertisers, banks and other third parties in order to make money. If your account is frozen, they aren't allowed to do that.
For this reason, TransUnion, Equifax and Experian shifted gears and started aggressively marketing "fraud alerts" and "credit locks".
Why?
Because if consumers opted for an "alert" or a "lock", the bureaus still had the right to sell their data to advertisers and banks.
How to Protect Your Data
Here's an unfortunately reality: credit bureaus are a necessary part of living in a world run on credit. You can't escape it.
What you CAN do is take steps to protect your data.
Setup a Credit Freeze: The first, and hopefully obvious, step at this point is to setup a credit freeze on your account. It requires working with each bureau individually (they purposely make it inconvenient) but it takes less than 30 minutes. Freezing your account stops new credit from being opened in your name and it prohibits the bureaus from selling your data.
Consider Identity Monitoring: If you fear that your data has been compromised in any way, you should start monitoring your credit and identity for theft. Much of this monitoring can be done manually for free, but it's often cost effective to use a good identity monitoring service for this.
Be Vigilant: Start taking notice of where you give out your data. Be stingy. Be skeptical. Be vigilant.
It's your data. You have a right to control it. But this right is only useful if you do something with it.