For the past two years, I've used the Google Titan Security Key as a form of Universal 2-Factor Authentication. If you're looking for a way to enable greater online security for your accounts – specifically Google – this is definitely something worth checking out.
I'd like to provide you a quick explanation of what a security key is as well as how to set up the Google Titan Security Key with your various online accounts.
Be sure to subscribe to the All Things Secured YouTube channel!
If you recall from my guide on 2-factor authentication, there are three common ways to implement 2FA:
Via text messages;
Via an authenticator app;
Using a security key;
The last method – using a security key – is considered by most security experts to be the most secure of the three.
Tech companies like Google and Facebook have been using this method for a while, but it's only in the last couple years that the technology has been made available to consumers like you and I.
While there are a number of different security keys on the market, with options like Yubikey Bio or the Yubikey Security Key that I recommend. I'm going to specifically focus on Google's Titan Security Key, since it was developed by Google and is promoted as part of their Advanced Protection Program (a program I'm a part of).
Here's what you need to know.
So let's take a look at the Google Titan Security Key.
Note: Some of the links in this article may be affiliate links, which means that at no extra cost to you, I may be compensated if you choose to use one of the services listed. I only recommend what I personally have used, and I appreciate your support!
How a Security Key Works for Online Security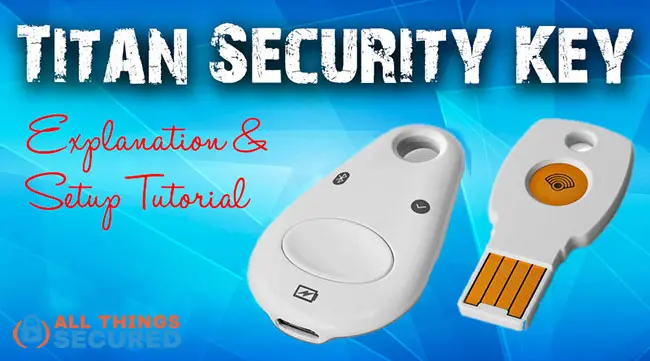 A security key is a physical key used to further secure your online accounts by authenticating that you are who you say you are when you log in.
It's far too easy for your password to get stolen or hacked (even if you have a really good password), so these forms of 2 factor authentication (2FA) ensure that only you have the ability to sign into your accounts.
Time needed: 2 minutes.
The Google Titan Security Key, as with any security key, works in the following way.
Log into your Online Account

You can log into any online account that supports 2FA from any device or computer. Enter your password and then you will be asked to verify your identity with the security key.

Plug in your Titan Security Key

You can plug the key into a USB port, a USB-C port or you can even use the Bluetooth connection on mobile devices.

Google Verifies Your Identity

Your unique security key will be matched up with your account to verify that it is actually you logging in to the online account.

You are Logged into Your Account

Once your security key is verified (which only takes 5-10 seconds), you are securely logged into your account with the confidence that nobody else can hack in without access to your security key.
There's no need to open something like the Google Authenticator app (which, surprisingly, is no longer considered secure), to type in a code, or wait for a text message to arrive. That's one of the major advantages of a security key.
The sign-in process is near-instantaneous.
I keep one security key in my bag and one security key on my key chain. If I need it, I just pull it out and plug it in.
The Bluetooth key works with my phone (since there isn't a USB port) and allows me to create the same secure connection even if I'm on my phone.
Titan Security Key Setup with Google (& Other Accounts)
In theory, setup of the Google Titan Security Key should be pretty straight-forward. You add it to your account and you activate the keys when needed. Simple, right?
In practice, however, I found that initial setup can be a bit tricky.
If you've decided to purchase your own Titan Security Key (available in the Google Store), take a few minutes to watch this setup video at the top of this article so you can see how to connect your new keys with your Google account.
You don't have to be a part of Google's Advance Protection Program to make use of the security key. The process goes something like this:
Log into your Google Account
Click on "Sign-in & Security"
Click on 2-Step Verification
Find "Add Security Key"
This is done separately for both your computer and each of your mobile devices. For mobile devices, setup can be done natively on Android devices or through the Google Smart Lock app on Apple devices.
**Note**: To my dismay, the Bluetooth key only works with phones, not with computers. You'll always have to physically plug in a key to a computer, which can be done either with the USB or Bluetooth keys (with cable that came with the bundle.
Setup with other accounts, including Facebook, Twitter, Dropbox, Salesforce and others is very similar and needs to be done separately.
Where to Use a Security Key Online
While the Google Titan Security Key is designed to be used with all Google products, it's also part of the Universal 2-Factor Authentication (U2F) standard that can be used elsewhere.
This includes accounts such as:
Social Media: Facebook & Twitter are currently the only social media platforms that utilize U2F.
Online Storage: Dropbox and Google Drive support U2F.
Cloud Computing: U2F is available with Amazon Web Services as well as the Google Cloud Platform.
Email Providers: While Google supports 2FA, there are a number of great Gmail alternatives that function with it as well;
Salesforce
Using a good password manager app such as 1Password will help you track which logins allow for 2-factor authentication.
This list is sure to grow with the adoption of the U2F technology. Check here for up-to-date support of USB dongle authentication.
If you have a security key, it's worth taking the time to set it up with each of the available online accounts, not just one.
While this one key won't protect you from every single online threat, it is an excellent start. For more ideas on how to secure yourself online, check out our Security Start Here Guide!
Is It Worth Using the Titan Key?
As our lives continue to migrate to the digital world, the ability to lock and secure our online accounts has become increasingly important. Some of this is done through good password managers or even the use of a good VPN service.
Another is the use of a good security key for online authentication.
Although the Google Titan Security Key is marketed toward those who are in need of advanced online protection, the truth is that anybody can use it.
In fact, I would go so far as to say that everybody should begin adopting the use of a security key for online account authentication. It's a standard that's only going to become more and more common with each passing year.
You can learn more about the Google Titan Security Key here, which includes a place to buy the key and have it shipped to your home. It only takes about 10 minutes to get the keys set up on your computer and/or phone and then you're set!