We're only as secure as our weakest link, and for many of us, that weak link happens to be our mobile phone. Thankfully, there are other cell phone companies that prioritize security and privacy in a way that major carriers don't. Below is a look at the best secure cell phone providers on the market today as well as the most secure cell phones for maximum privacy.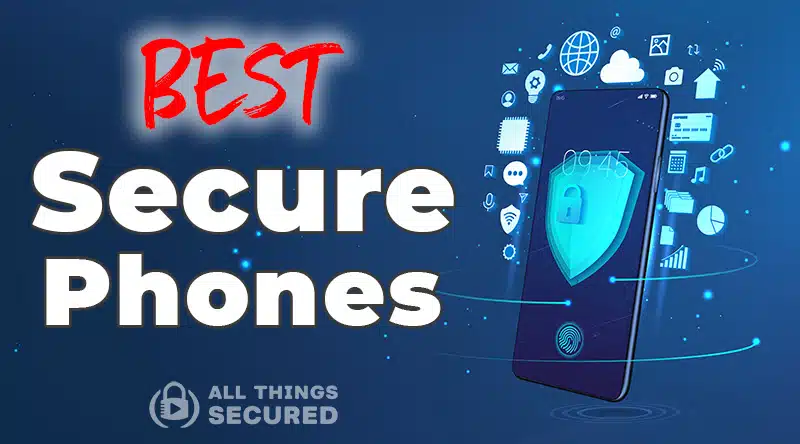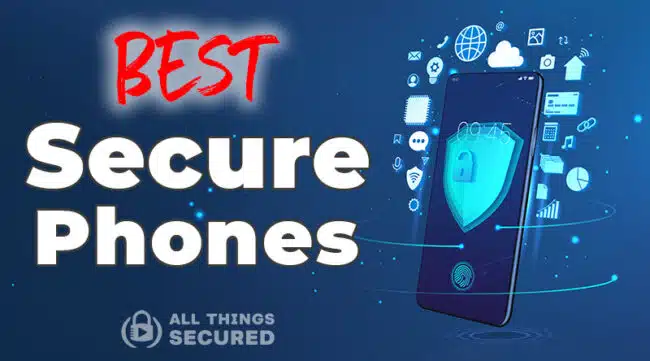 Your cell phone company knows a lot about us – our contacts, our GPS location, our daily patterns, and much more. Yet very few of them are held to any kind of standard when it comes to data security or personal privacy.
The SIM swapping scam is a perfect example of a mobile carrier exposing you to risk just so they can save a few dollars on human resources.
Or if you've seen the news of the T-Mobile debacle, who have now been hacked more than six times, perhaps you're worried about all your personal and financial data that these companies store.
When you consider your mobile phone, there are two parts to this equation:
How secure is your mobile provider?

How secure is your physical mobile device?
These are two very different questions, and we're going to cover each of them separately below.
Best Secure Mobile Phone Service (US)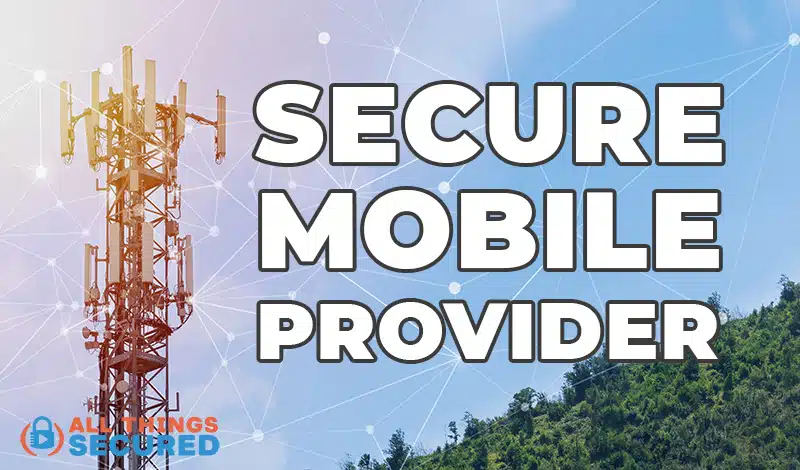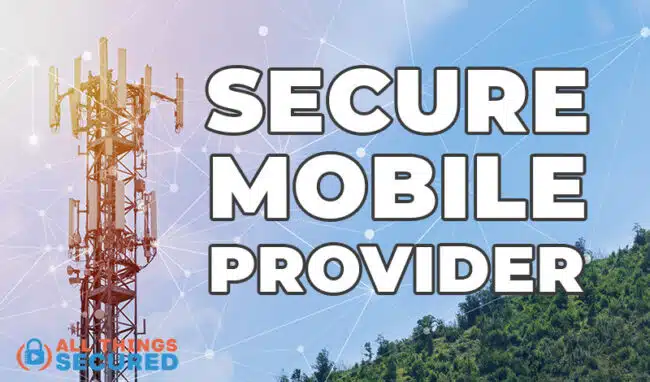 The most secure mobile providers for US residents are:
Here's greater detail about each of these providers, what they offer and why it may or may not be a good option for you as you look to secure your mobile communications.
Efani Secure Mobile Provider (Recommended)
If network privacy and SIM swap protection is your priority, Efani is hands-down the best way to go. They market themselves as a "bespoke cybersecurity-focused cellphone service" that runs on either the AT&T or Verizon network.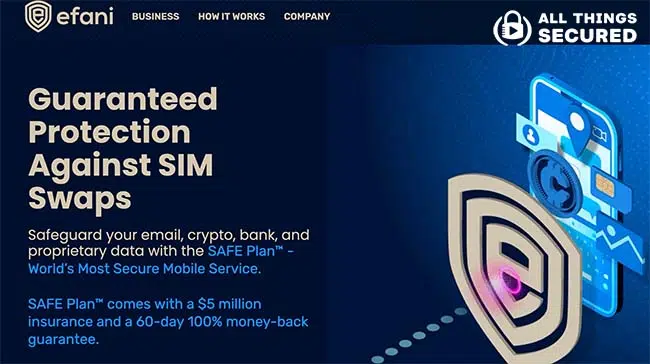 You get the same unlimited talk for phone calls, unlimited text and unlimited data that you do with the major carriers.
The difference when you use Efani instead of AT&T or Verizon is that:
Privacy: Both AT&T and Verizon will not know who you are;

Security: Efani boasts a proprietary 11-layer verification process for any SIM-related issues, all but eliminating the risk of SIM swaps.
These protections are so robust that they're even able to $5 million of insurance against any SIM fraud as part of any plan.
Efani gives you the options to port your number or get a new one as well as use a SIM card or an eSIM. You continue to use your existing iOS or Android device. It's fast, it's slightly pricey, but it's the best option if you're serious about secure voice and SIM protections.
Silent Link: an Anonymous eSIM Option
You can think of Silent Link as a more anonymous, extremely limited version of Efani. Limited as in they don't have a plan that allows you to make outbound voice calls or SMS texts.
What they do offer is an eSIM with 4G/5G access to international roaming and payment that can only be made via Bitcoin, Lightning or Monero.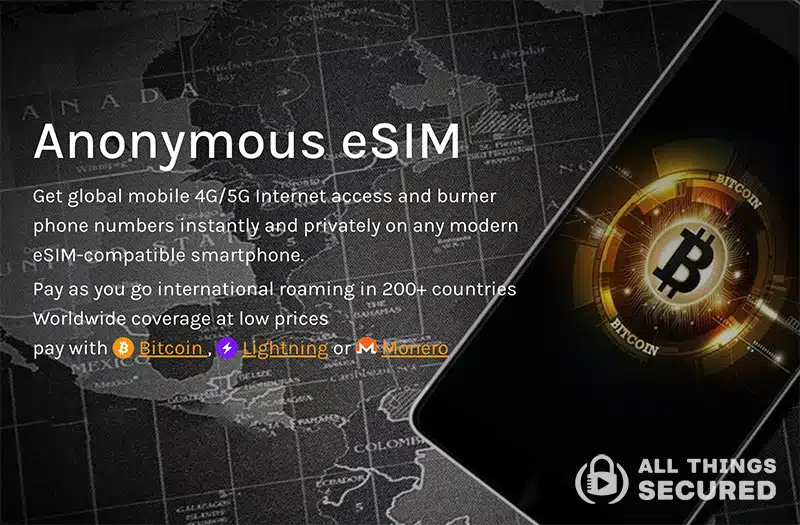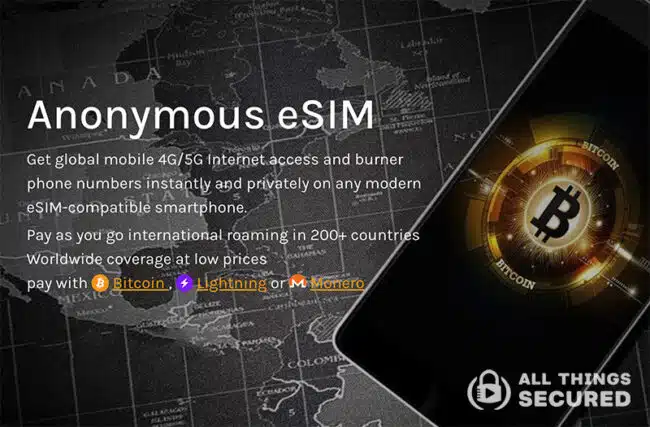 They have three plans depending on what you need:
No Number: This is a prepaid, data-only plan;

U.S. Identity: You are leased (you do not own!) a US phone number that can only accept phone calls and texts; the number is leased for a set annual fee and data is prepaid;

U.K. Identity: This is the same as the US version above, except with a U.K. number;
There's certainly value in the level of anonymity Silent Link offers, but this will only work for a select group of people.
Explore the Anonymous eSIM
4Freedom Mobile | Strong Encrypted Communications
4Freedom is a both an alternative mobile provider as well as mobile phone maker (see below) that offers a cheaper version of Efani's privacy and security. You get unlimited talk, high speed data and free international roaming.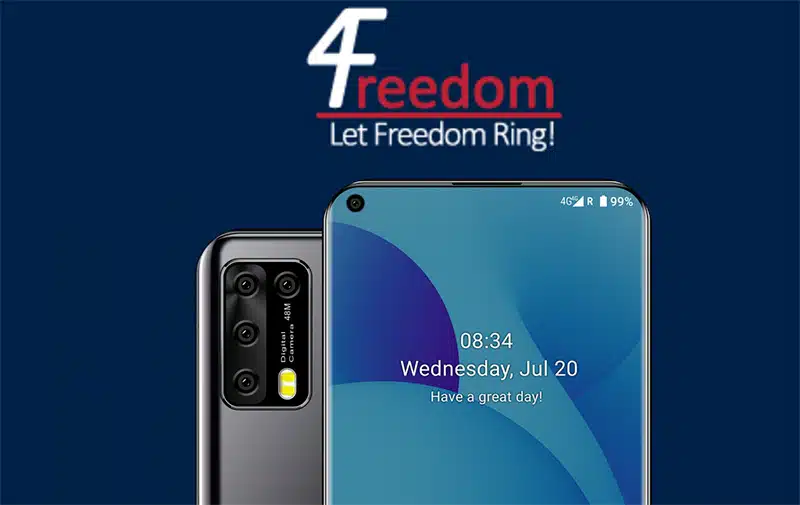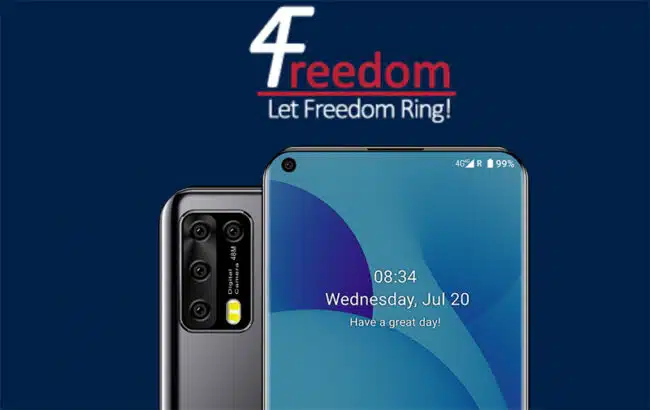 With a 4Freedom plan, you can use your current Apple iPhone, Android or other device to get:
Private Number: Get a new number that won't be tied to your identity and won't show up with your name on caller ID;

Secure Mobile App: The app can be used to make or receive end to end encrypted voice calls, encrypted video calls, encrypted text messages and even secure file transfers.

VPN: If you don't already have a VPN, 4Freedom gives you one to use on unsecured WiFi networks (like coffee shops or airports);

General Privacy: 4Freedom claims to never collect and store any sensitive information such as your identity, your location, your communications or internet activity.
Try 4Freedom
Use promo code ATS to get $40 off your first month.
Although the protections against SIM swapping aren't as strong as Efani's, the level of encryption with 4Freedom Mobile is really good. If your priority is private communications, this is an excellent option for you.
Silent Phone | Secure Team Communications
With Silent Phone, we're shifting more toward business and enterprise users. Instead of being a full-on replacement for your current mobile provider.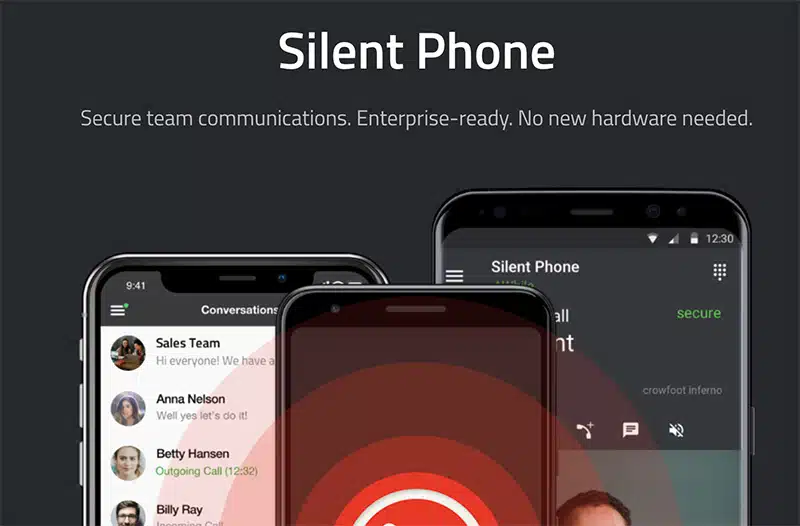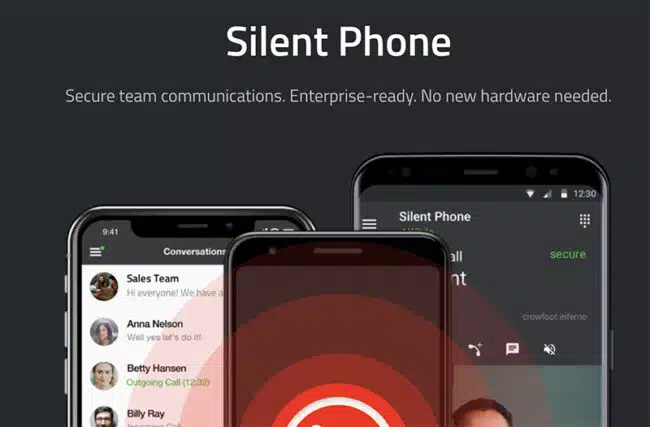 For businesses that want better security for their employees, Silent Phone offers:
Simple "zero touch" deployment: Get your company started without adding new hardware or training.

Web-based user management: Manage all teams, users and plans from a simple dashboard.

End to end encryption: This applies to all phone calls, video calls, messages, file transfers, data and more.
If secure team communication is important for your business, Silent Phone is something worth checking out.
Cloudflare Zero Trust SIM (Enterprise Option)
For business and enterprise users, Cloudflare Zero Trust SIM has emerged as a competitor to Efani. The purpose of this kind of security is to stop data loss, malware, and phishing attacks that cost businesses millions of dollars each year.
Cloudflare has built a reputation in their encrypted online security solutions, and this Zero Trust SIM is yet another example. Their service provides a platform for businesses to set up and control all the users in the company.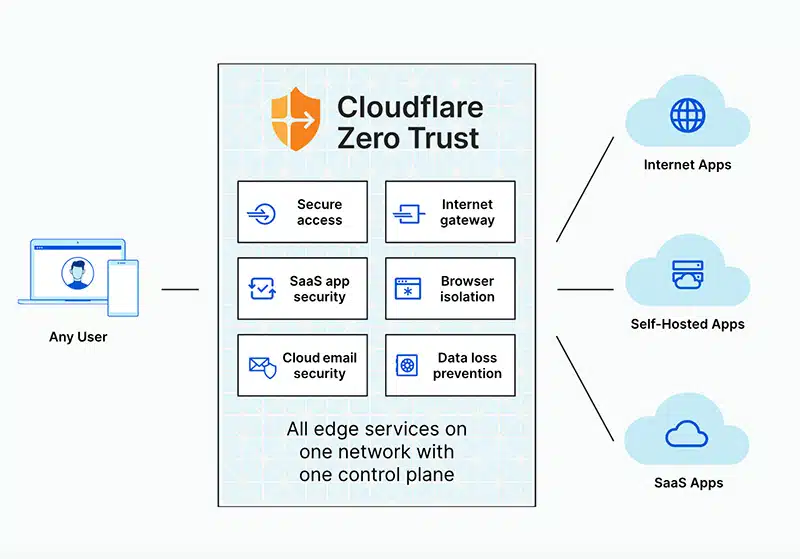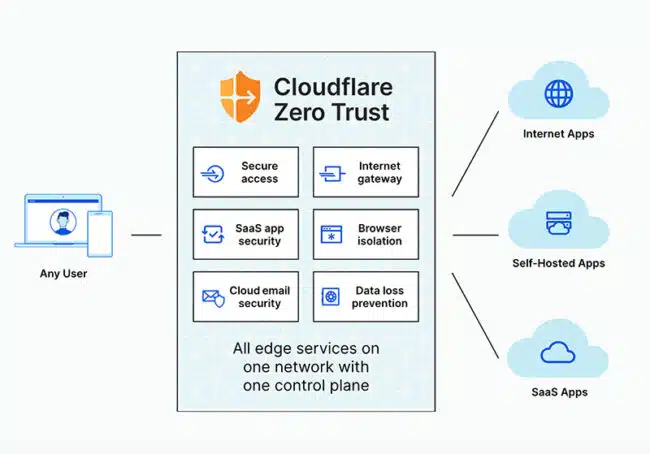 This isn't aimed at consumers, so if you're a business that needs built in mobile security, learn more about Zero Trust SIM here.
What About Anonymous SIM Card Options?
Before we move on to various options for secure phones, it's helpful to understand the difference between secure cell phone service providers and anonymous SIM cards.
There are numerous companies that offer anonymous SIM cards that hide your identity and they definitely serve a purpose. It's important to note, however, that anonymous SIM cards do not offer additional security or privacy.
The only thing they offer is anonymity. Kind of. All of your data is still being tracked to your device, it just may not be tracked to your identity.
If you need a burner phone number or something for the short term, an anonymous SIM might be a good option.
Secure Smartphones | Best for Privacy & Security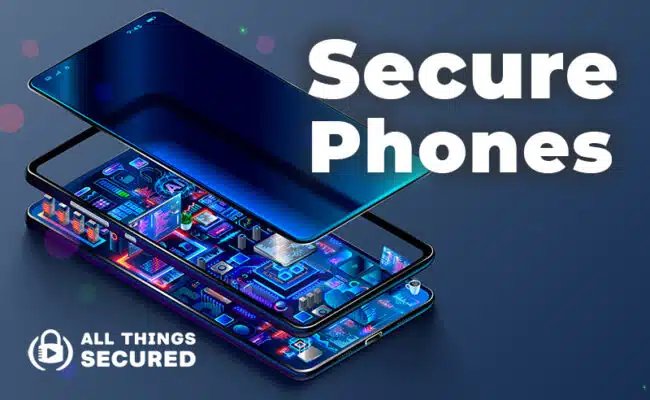 Most people aren't aware that there's more available than an iPhone, a Samsung or a Google Pixel phone.
That's not to say that these aren't good phones to use, but it's helpful to understand your options when it comes to the most private mobile phones. In 2023, you can now choose from one of the following secure phones:
Let's take a closer look at each of these physical handsets.
Google Pixel (w/ Graphene OS) – Recommended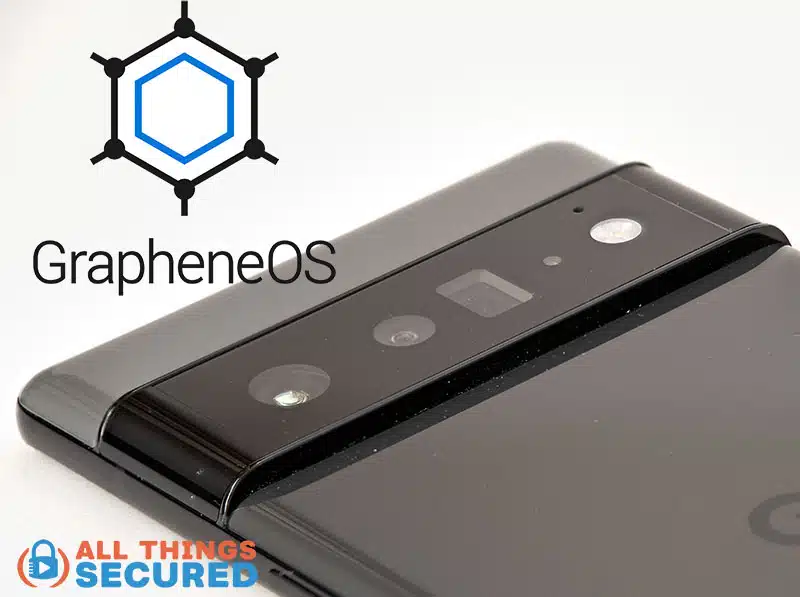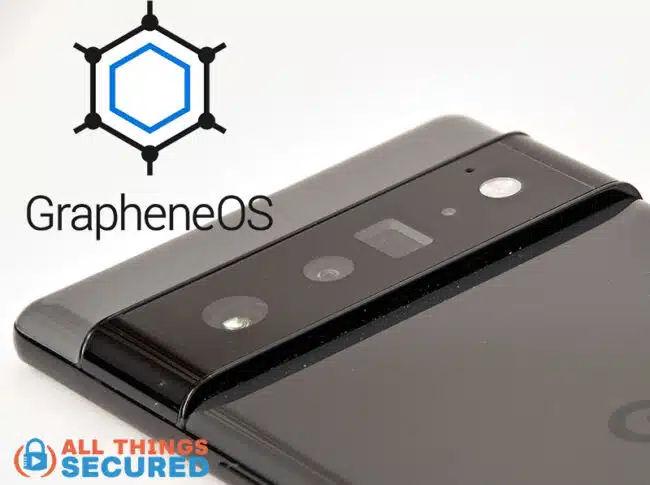 What happens when you take some of the latest hardware on the market and flashing it with a privacy-focused, open-source operating system like GrapheneOS?
The result is a level of mobile security and privacy that you won't find anywhere else.
Unfortunately, these phones aren't just sold on the open market, so those who want to pursue this kind of extreme privacy and security will need to purchase their own Google Pixel and go through the process of changing the operating system.
It's not as daunting as it may seem, even if you've never done it before. I recommend you grab a copy of the Extreme Privacy Mobile Edition digital guide from Intel Techniques that walks step by step through the entire process.
https://inteltechniques.com/book7a.html
PinePhone by Pine64: Open Source Option
The PinePhone offers a custom, secure OS that gives you the option to use any major Linux-based phone project.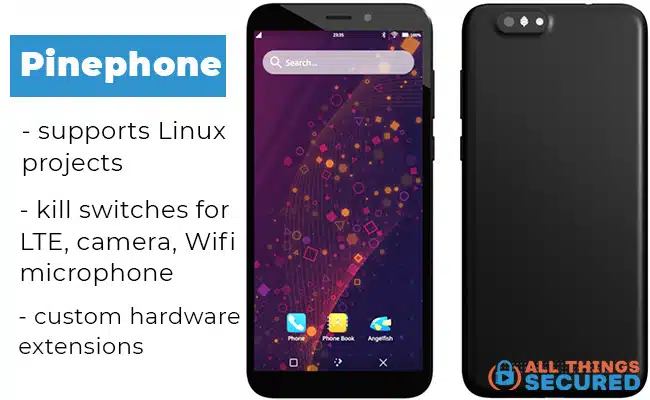 It's cheaper than purchasing a Google Pixel (as low as $199), it allows for custom hardware extensions, and although the specs aren't amazing, it gets the job done.
If you want added security and privacy but you're on a budget, PinePhone is an excellent device.
4Freedom Secure Phone
The 4Freedom Secure Phone is available to run on the 4Freedom secure network mentioned above.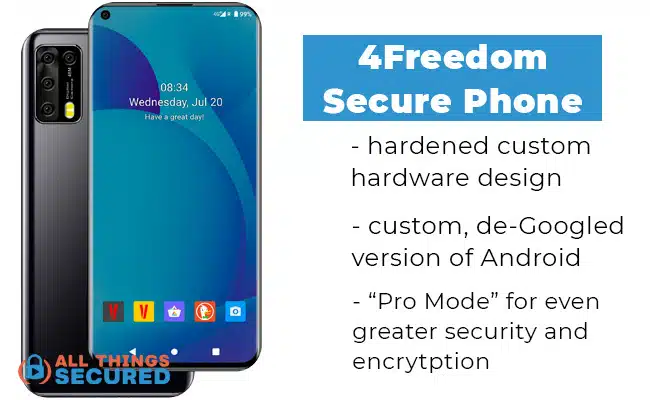 The phone boasts a security hardened custom hardware, a de-Googled version of Android and a special "Pro" mode that creates a separate, more secure OS environment.
The phone isn't necessarily cheap and it hasn't been heavily tested, but it shows a lot of promise. If you're going to take advantage of the privacy and end to end encryption of the 4Privacy network, it's worth considering the 4Freedom Secure Phone as well.
Fairphone 4: Mobile Phone Sustainability
Let me be clear: privacy and security aren't the primary selling points of the Fairphone mobile phones. Sustainability is. The device is what they call "electronic waste neutral", whatever that means.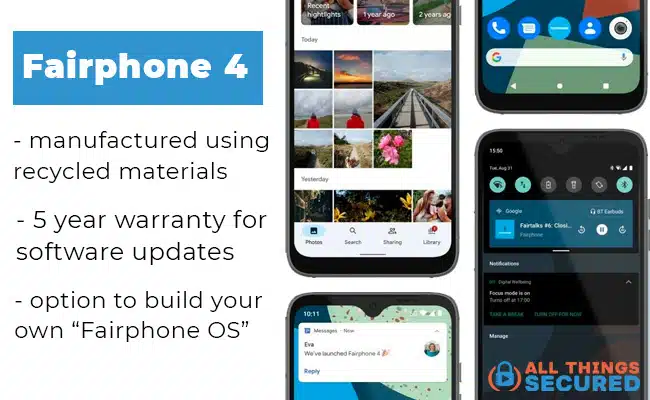 The phone uses Android 11 as an operating system, which allows you to download all your favorite apps through the Google Play Store.
The benefit of a Fairphone is the option to built your own Fairphone OS or to control your own data with other open source software options.
WARNING: Don't Purchase Purism Librem Phone
Unfortunately, despite the promise of a true Linux-based phone with physical kill switches for camera and microphone, the Purism Librem has been a much-hyped but very disappointing phone.
It's not that the phone is no good – it's simply that it never shipped. Sadly, they're still taking orders on their website despite the fact that original Kickstarter backers from 5 years ago still haven't received their units and can't get refunds.
The company is likely to go out of business, so despite what you might read online elsewhere, don't purchase the Purism Librem.
Secure Provider vs Secure Mobile Device?
As you weigh the pros and cons of changing cell phone providers or buying brand new secure phones, there's a burning question most people ask: which is more important?
The truth is that both are important, but that doesn't mean that you need to switch them both at the same time.
The purpose of replacing your existing phone with hardened mobile phones is to regain control of your operating system. For many people, there's peace of mind knowing that Apple or Google isn't tracking every little thing they do on their device.
On the other hand, changing cell phone providers serves to limit how much you have to trust these big corporations that value profits over privacy. You can still access the internet, make video calls and get on Wi Fi, but these communications don't have to be shared and stored by the big carriers.
You can protect your device or you can build end-to-end communications through your telecom provider. Or both. But it really depends on what you need.
How to Ensure Encrypted Communications
As we close out, it's worth noting that secure communications doesn't necessarily require a new phone or cell provider. These are definitely good things to consider, but they're not the only option.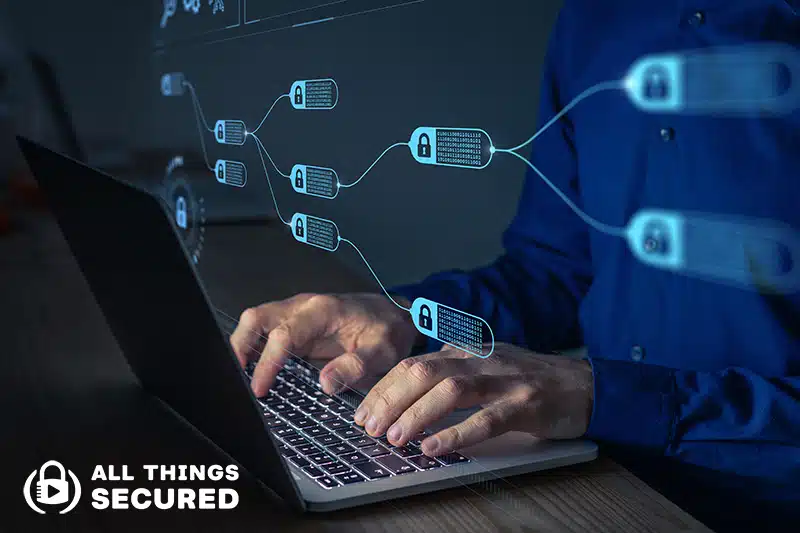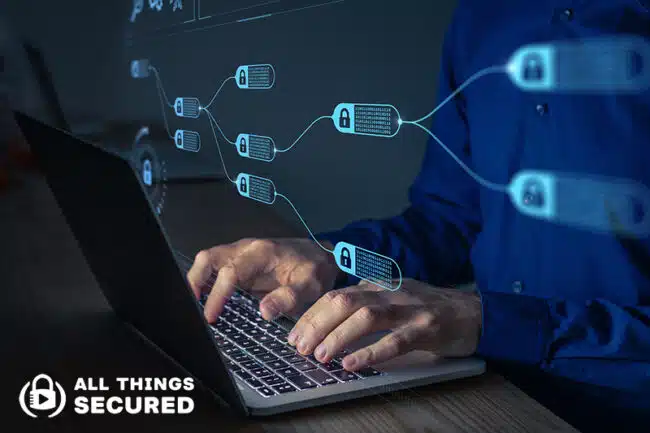 For example, simply using an app like Signal to communicate with your family and friends is an easy and free way to communicate without fear of any company snooping on what you're saying.
Or even creating a free ProtonMail account for encrypted email (read the full ProtonMail review here). All of this "military grade encryption" can be utilized with your existing iPhone, Android or Pixel phone without having to spend any extra money.
You have the ability to control your level of encrypted communications – it's up to you to make use of it!
Other Methods to Build Better Privacy
If you're looking for even more ways to create built in privacy and security into your life, here are some other methods to consider beyond just your mobile phone: