Knowing that your personal information can be collected and used WITHOUT your consent can be extremely scary. In this video, Josh walks you through the initial setup of DeleteMe and reviews the pros and cons of the services it provides in reducing your digital footprint.
DeleteMe is a privacy service that helps users remove their personal information from data broker websites. Many of these brokers, such as Whitepages.com, store and sell data on you such as:
Your full name
Your home address
Your birthday
Your phone number
Your family members
Your court records
You can manually go through and request the removal of your data from these broker sites – and they are obligated by law to comply – but it is a tedious process.
The main selling point for a service like DeleteMe is that it is all done for you. But is it effective in removing your data? And is it worth the seemingly high annual cost?
In this DeleteMe review, I'm sharing what is required during setup and what you can expect from the reports they provide.
Note: Some of the links in this article may be affiliate links, which means that at no extra cost to you, I may be compensated if you choose to use one of the services listed. I only recommend what I personally have used, and I appreciate your support!
Initial Setup | DeleteMe Review
When you first click to "Join" DeleteMe, there are three plans for you to choose from.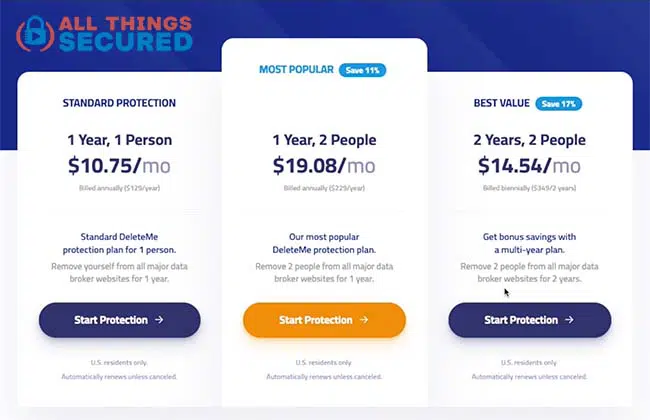 It makes sense that a married couple would need to remove the data for both spouses and you also have the option for a better discount when you pay for two years up-front.
Whichever you choose, don't be fooled by how they market the monthly pricing on this sales page. You cannot pay by the month – you must pay annually.
Once your payment is successful, you will be forwarded to the DeleteMe dashboard that asks for you to add your personal information split out into these four categories:
Personal information: You are required to add your name, alternate names, or any names that you have went by before. You will also be asked to input your birthday, gender, emails, and phone numbers.
Addresses: Add as many of your addresses as you can, even if you have to go back to a couple of decades.
Contact: You don't need to provide them a copy of any of your documents. Instead, you can just opt to have requests for verification sent to your email.
Improve Deletions: You can add any relatives to make sure that they can find that as well.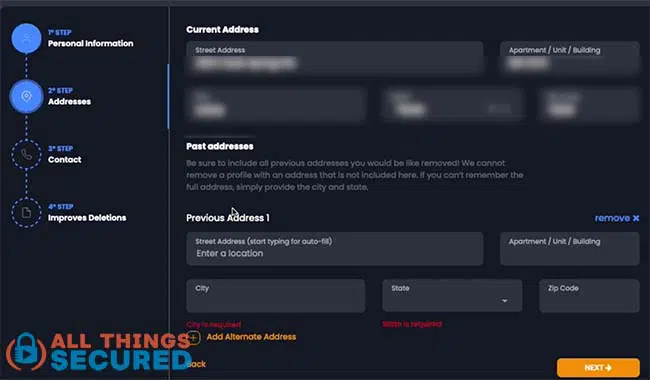 Wait a moment…isn't it dangerous to give a company all this data?
I was hesitant at first too, until I realized two things:
They need my information in order to find my information;
I'm not giving them anything that isn't already freely available with these data brokers online.
DeleteMe does not ask for an ID number (social security number) or financial information, and you should not use a service that does.
Receiving the DeleteMe Privacy Report
Once you finish your data sheet, it may come as surprise that it takes another 7 days before you receive any additional communication from DeleteMe. The reason for this, I came to find out, is simple:
DeleteMe is manually searching for and requesting removal of my data.
That takes time, both for them as well as the data brokers. But in the end, they were able to find a scary amount of my personal information online and saved me close to 10 hours of work getting it removed.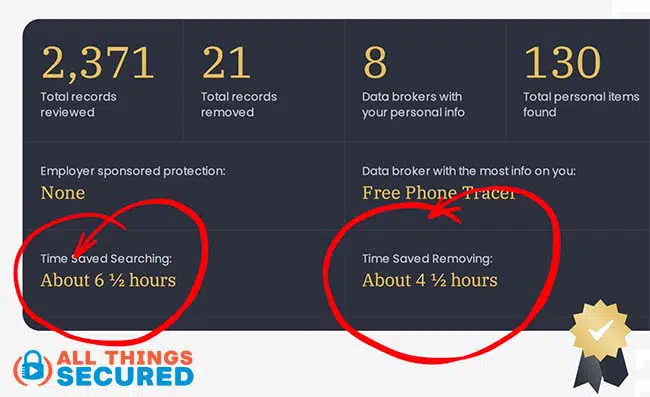 Inside this report, DeleteMe shows you exactly which data brokers they have searched.
For those brokers who don't have your personal information, they show a green smiley face. For what has been found, they share the kind of data and how long the removal process is expected to take.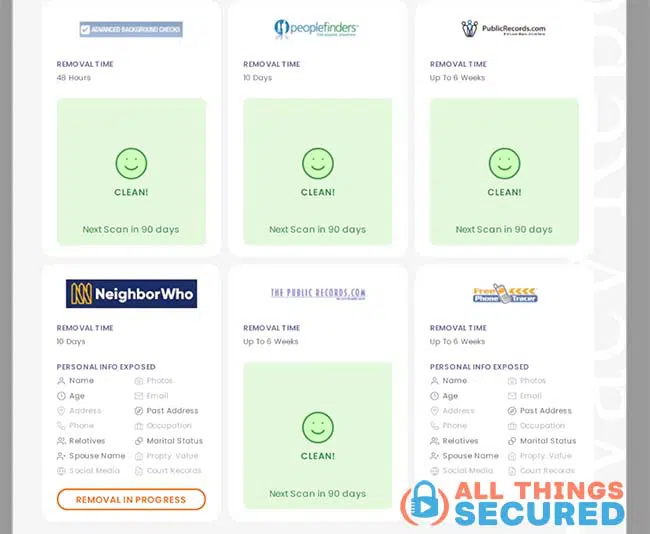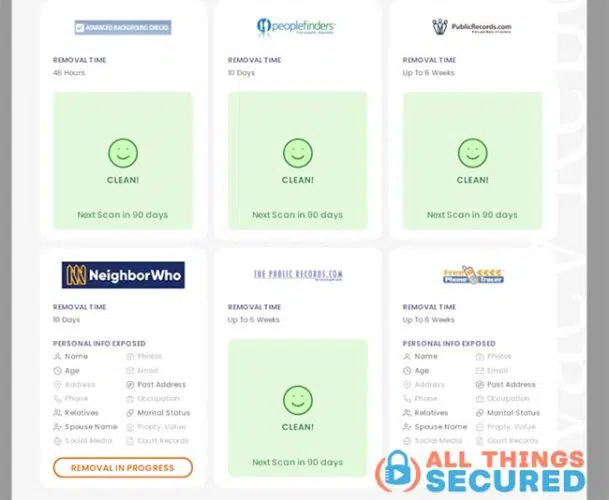 Each data broker has their own process of removing the data. Some remove it instantaneously and other say it will take 6-10 weeks.
And this is the perfect example of why data brokers are shady businesses. It should never take that long to remove data.
Finally, if I do happen to find my data elsewhere on the internet, I can easily report it to my "Privacy Advisor" and they will begin the removal request and monitor to make sure the request is honored.
DeleteMe Review | Pros vs Cons
Now that you've seen how the service works, I'm going to move this DeleteMe review into my analysis of the pros and cons. First, the pros:
Saves hours of time: Manually making data removal requests is time-consuming. DeleteMe does a good job of making the whole process easier.
Data removal works: As seen in the report, there were a number of sites that had my personal information that was now removed.
Privacy advisor: I like how I can simply submit a website that has my information to the personal advisor and they can remove and monitor it for me.
Of course, there are a few important cons to note for a service like this:
Pricing & Structure: Since DeleteMe have people that work for the services manually, it costs is a little bit more than I would like.
Requires trust: In order for them to find and remove your information, you have to give them all of that information first.
Limitations: DeleteMe can't log into your private accounts to remove information (i.e. Facebook or other online entities). This is on you! It's one reason why I recommend using some kind of virtual credit card for payments online to protect your financial data, using email aliases, and other ideas.
Not a "quick fix": It took seven days just to receive the first report. So, if you are in an urgent situation, don't expect DeleteMe to provide immediate relief.
Overall, the pros outweigh the cons – at least for me – and I'm satisfied with my experience. I value my time as much as I value my privacy so for me, it was worth the expense. If this has been helpful, you can try my affiliate link for the DeleteMe service here.
Remove Your Personal Info
If you want to take extra steps to further protect your online privacy, learn how to search anonymously online.
Be sure to subscribe to the All Things Secured YouTube channel!