As you do your research before purchasing a VPN, I'd like to help you compare CyberGhost vs NordVPN. Since I've used and tested both services, you'll be able to see the similarities, primary differences and a balanced opinion as to which is worth your time and money.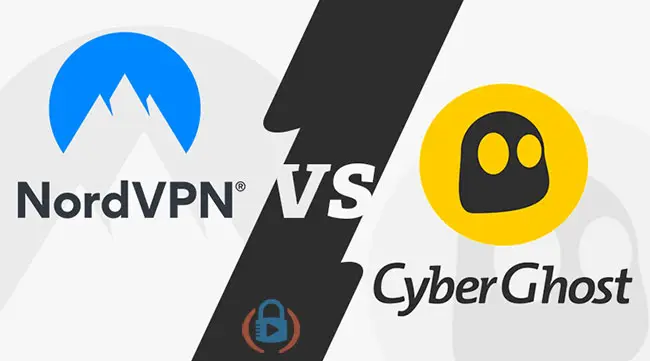 When it comes to protecting your online privacy and security, choosing the right Virtual Private Network (VPN) is critical. With many options to choose from, narrowing it down to a few suitable VPNs can feel intimidating.
Let me start by saying this: both CyberGhost and NordVPN are good services.
Our purpose here is to analyze NordVPN vs CyberGhost and compare them in the following ways:
We'll start by comparing the similarities of both services side by side.
Note: Some of the links in this article are affiliate links, which means that at no extra cost to you, I may be compensated if you choose to use one of the services listed.
Similarities between CyberGhost & NordVPN
To start, let's compare a few of the similarities between CyberGhost and NordVPN.
NordVPN
CyberGhost
Based in:
Panama
Romania
Privacy measures:
RAM-based servers & independent audits;
Regular transparency reports;
Available Protocols:
WireGuard, OpenVPN,
IKEv2
WireGuard, OpenVPN,
IKEv2, L2TP, PPTP
Server coverage:
60 countries
88 countries
Simultaneous Devices:
Six (6)
Seven (7)
Torrenting allowed?
Yes
Yes
Pricing:
NordVPN Deals
CyberGhost Deals
Each of these features represents an important part of the virtual private network that deserves further explanation.
Protecting User Privacy
One of the most important aspects of any data service is trust. Will this company handle my data properly and provide the most privacy possible?
There's a lot of marketing hype that you'll hear from pretty much every VPN service on the market today (and many VPN review websites as well) about privacy. Until the past year or two, though, there's been very little to back up this talk about "complete privacy".
Here's what NordVPN and CyberGhost have done to try to enhance user privacy.
NordVPN: Being based in Panama shields the company from most government requests to hand over user data. They accept Bitcoin as a (semi-) anonymous form of payment and they have implemented RAM-based servers to give credence to their "no log" policy. Finally, they were the first VPN company to pass an independent audit of their privacy claims, although these audits aren't as important as these companies make them out to be.
CyberGhost: Similarly, being located in Romania keeps CyberGhost relatively safe from government data requests. They accept cryptocurrency as one form of payment and every quarter they publish a unique transparency report detailing in legal requests and statistics. Their servers also run in RAM only.
Both NordVPN and CyberGhost provide the same consumer protections with their payment options and RAM-only servers.
VPN Security Measures
To protect users' internet connections, VPN providers use different encryption methods that scramble user information so outsiders cannot decode the data.
NordVPN uses AES-256 encryption (highest level of protection) via OpenVPN, IKEv2/IPSec, and NordLynx protocols for its mobile and desktop applications. NordLynx is the name for their implementation of the highly-rated WireGuard protocol. Additionally, NordVPN offers DNS leak protection, a kill switch, Double VPN (see image below) and Onion over VPN servers.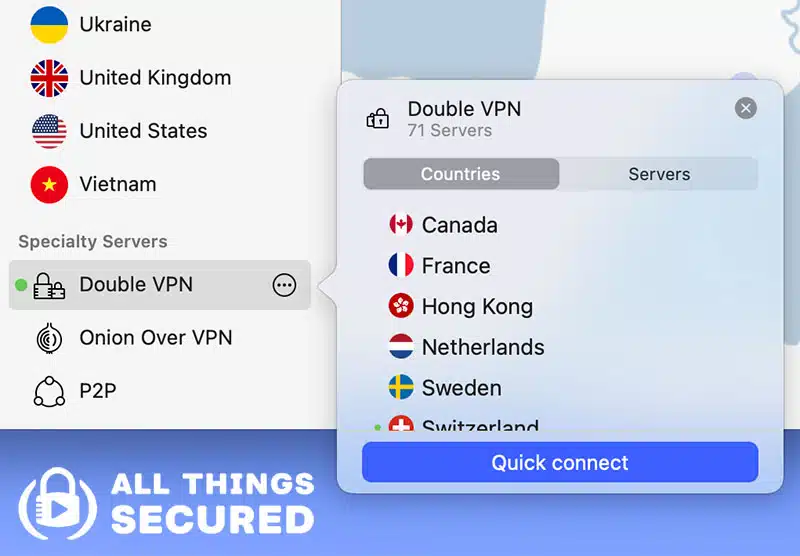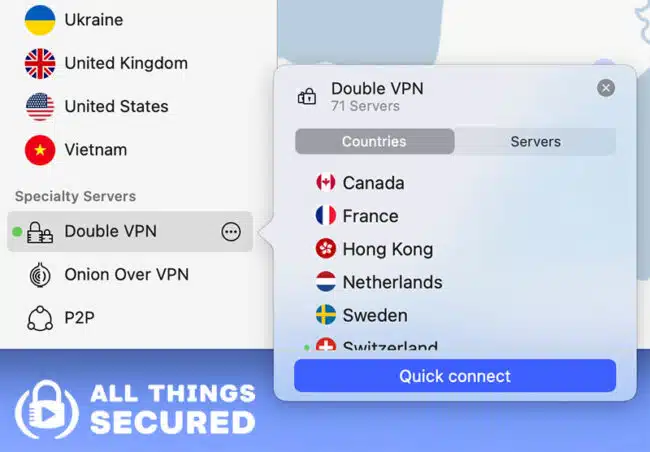 CyberGhost protects connections also using 256-bit encryption. They also offer OpenVPN , IKEv2 and WireGuard protocols, but they also include a couple older VPN protocols. Security features include DNS leak protection, kill switch protection, IPv6 leak prevention and an option to block malicious websites, ads, and online tracking.
Although both services offer the same level of encryption and the latest WireGuard protocol, NordVPN has added security via their Double VPN and Onion over VPN options.
Comparing Performance and Speed
A VPN will frustrate you if it does not provide good speeds, especially when you are into streaming, torrenting, and gaming.
Buffering and lags are common when using a VPN. Both NordVPN and CyberGhost provide speeds that support all sorts of online activities, including the ability to stream Netflix, Hulu, Amazon Prime, BBC iPlayer and others.
Because there are so many variables (server load, time of day, ISP speeds, etc.), I find speed tests to be unreliable. Suffice to say, when comparing CyberGhost vs NordVPN, their speed results average out.
VPN speed tests aren't very reliable, but when averaged out, both service speeds come out even.
Global VPN Server Coverage
Behind security and privacy, the most common reason people use a VPN is to bypass geoblocking. It stands to reason that the more global server locations that are available, the easier it will be to unblock geo-restricted content and torrents.
*Note* The number of servers isn't nearly as important here as how many countries are represented.
NordVPN has a global coverage that reaches 59 countries. Among virtual private network companies, this is about average.
CyberGhost, on the other hand, boasts servers in 88 countries. Granted, this is far more than you'll need, but it will give you more options for evading geoblocking, which is good.
GLOBAL SERVERS WINNER: CyberGhost
CyberGhost not only boasts more overall servers, more importantly, they have servers in almost 30 more countries.
Additional Feature Comparisons
While the above features are arguably the most important to consider when you compare NordVPN vs CyberGhost, here are a few other characteristics of these services worth mentioning:
Multi-Platform Support: Both CyberGhost and NordVPN have dedicated apps for Mac, iOS, Android, Linux, Windows, Amazon Fire TV, Android TV, and browser extensions.
Split Tunneling: Both services offer the invaluable split-tunneling technology that allows you to choose which apps will access the internet through your primary connection and which will go through the VPN tunnel.
Pricing: Both NordVPN and CyberGhost are reasonably priced when compared against the overall VPN market. Both offer 1-month plans in addition to multi-year plans with discounts. You can check the NordVPN website or the CyberGhost website to see the latest deals.
Support for Torrenting: Yes, both of these VPNs allow P2P downloading via dedicated servers on their network. CyberGhost has P2P-approved servers in 30 countries while NordVPN allows torrenting in 46 countries.
Customer Support: Both services give you 24/7 email and live chat support in addition to extensive FAQ and help tutorials on their website.
These are the similarities when comparing CyberGhost vs NordVPN.
It should be clear that both are good choices, but before you make a final decision, it's good to understand the differences between the two.
Differences between NordVPN & CyberGhost
While there are many similarities between CyberGhost and NordVPN, you might also want to know what distinguishes the two VPN service providers.
There's a lot of this that has already been covered, but to make it easy to see, we'll highlight the most important differences between NordVPN and CyberGhost.
Simultaneous Connections: The difference here is negligible, but it does exist. NordVPN gives users six (6) simultaneous connections while CyberGhost gives you seven (7).
Refund Policy: NordVPN offers users 30 days to try their service with a money-back guarantee. Not to be outdone, CyberGhost go one step further with 45 days.
VPN Connection Options: While both services allow for regular and P2P connections, only NordVPN gives you the ability to use Onion over VPN and a Double VPN connection setup. While these are advanced features, they will appeal to a number of users.
Obfuscated Servers: Obfuscation is a technology used to disguise VPN traffic to look like regular https traffic, thus bypassing censorship. This is important for users in countries like China, Turkey, the United Arab Emirates and anywhere else where internet is heavily censored. While NordVPN employs obfuscated servers, CyberGhost does not, and thus CyberGhost is not a good option for those in closed internet countries.
Who wins when you compare these differences?
Honestly, it really depends on your needs. Perhaps you need an extra simultaneous connection (in which case CyberGhost wins for you) or maybe you need to use the VPN when visiting China (in which case, NordVPN is the better option).
Which is Better? CyberGhost vs NordVPN?
I'm not being paid by either of these companies to go one way or the other (although the links are affiliate links). I use both services and I honestly like both of them.
The differences when you compare CyberGhost vs NordVPN are pretty negligible. There are differences, of course, but you'll find most of those in the advanced settings that cater to a specific subset of users.
For me, I prefer NordVPN.
However, I have a number of friends that use and really like CyberGhost.
Similar to most any kind of security software, as long as you're dealing with reputable companies, the one you choose isn't nearly as important as just choosing and using one!