It's tempting to think that mobile spy apps are the answer to the problem you're having monitoring your kid, your spouse or your employee. But before you sign up, you need to consider the risks. There's more to these apps than meets the eye!
Be sure to subscribe to the All Things Secured YouTube channel!
There are quite a few popular mobile spy apps on the market today: Mspy, CocoSpy, Spyine, and Flexispy to name a few.
Their primary marketing message is simple: you not only have the right, you have a duty to know what your kids, spouse and employee are doing on their devices.
For now, we're going to put aside the legal implications of trying to install a spy app without consent (but hear me clearly – I don't condone it!).
Instead, we're going to discuss the problems these apps cause from a security and privacy standpoint and then provide some alternatives to consider.
Note: Some of the links in this article may be affiliate links, which means that at no extra cost to you, I may be compensated if you choose to use one of the services listed. I only recommend what I personally have used, and I appreciate your support!
Privacy Concerns with Mobile Spy Apps
The privacy concerns for any kind of mobile tracking app or spying app should be pretty obvious.
Consider this: when you install one of these apps on a mobile device, you could be providing access to:
View Text Messages
Listen to Phone Calls
Track GPS Location*
Track Internet Usage
Monitor Live Audio/Video Feed
View Media (Photos/videos)
View Keylogger (typing)
*there are ways to fake the GPS data on your phone, though.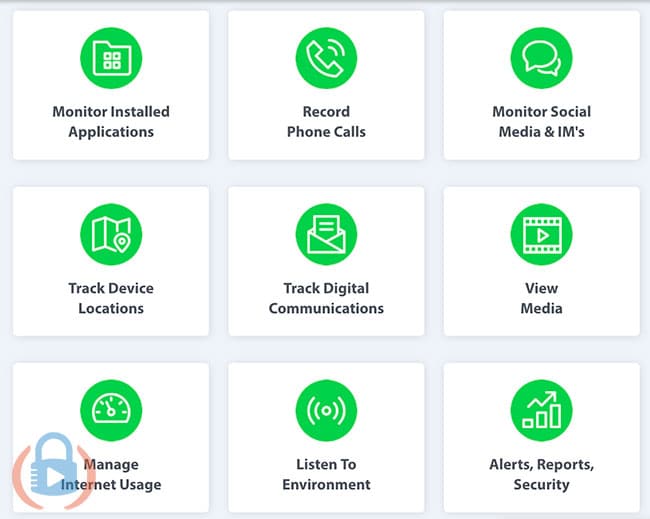 This data is not being kept on the device nor is it being transferred directly to your monitoring computer or phone.
No. All of this extremely personal and highly confidential data is being transmitted across the globe and stored on computer servers in another country before you go and access it.
The need for this kind of service may be very real to you, but are you willing to entrust all of this information about your kid, your spouse or your employee to a single company?
And…who exactly are these companies anyway?
Who are These Spy App Companies?
Our current online model hinges on trust, whether we like it or not.
You trust that Facebook won't sell your data (spoiler alert: they have, and this is how you can limit Facebook's privacy settings);
You trust that your mobile phone manufacturer (Apple, Samsung, etc.) hasn't provided a government backdoor to your device;
You trust that your internet service provider isn't monitoring everything you're doing;
In the end, you have to trust somebody. It's just a matter of who.
So who exactly are the companies behind the mobile spy apps?
You might be surprised to learn that…
…nobody knows.
For example, let's take a look at the About Us page for CocoSpy: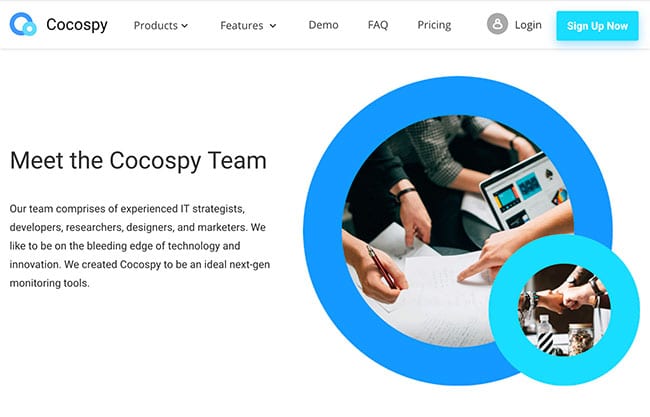 Based on that paragraph above, how much do you really know about CocoSpy? Where are they located? Who runs the company? How are they accountable to the data they protect?
It's a scary to think that you would be trusting this company with the most intimate details of your loved one or employee.
Why would you do that?
Questionable International Registrations
I had to reach out to each these companies to find out where they were based – it's not easily found on their website.
That alone should be a red flag.
Here's what I found with a handful of mobile spy apps:
Spyine (China): The representative I spoke with confirmed that they are a China-based company;
mSpy (Czech Republic): They are part of the Altercon Group, which is based in the Czech Republic. Their servers are located in Germany and the Netherlands;
CocoSpy (Bangladesh/China): The representative I spoke with confirmed that they were based in Dhaka, the capital of Bangladesh, but all the messages I received came from China.
Flexispy (Thailand): Flexispy was initially started in Thailand, although it's unclear where they're based now.
I don't know about you, but I have concerns about sending all of this personal data (including banking logins, any password typed and live views from the camera!) to any of these countries.
This is not racism, it's common sense.
Sending this data across the globe is risky, but it's just plain dumb when you consider the fact that since these companies aren't subject to US or EU regulations, even if they were caught misusing your data, there is no accountability.
Trust without accountability isn't security.
It's stupid.
What to Do If you Suspect Spyware on Your Device
Now before we move into some of the best alternatives for those wanting to monitor the online activity of their kids or spouse, let's address one very important question:
What should you do if you think spyware has been installed on your device?
If there's immediate concern, the best thing you can do is remove your SIM card and insert it into another phone. These spy apps can't follow the SIM card and are sometimes tracking your account (i.e. iCloud) and not the phone itself.
Once you've done this, consider looking into an antivirus software.
While spy apps aren't considered "viruses", most antivirus software will detect them and alert you to their presence.
They can also help you to remove the mobile spy app so you can feel confident using your mobile phone again.
Best Alternatives to Mobile Spy Apps
So if we can agree that many of these unregulated mobile spy apps are a bad idea, what other option do you have?
As a parent, I understand the desire to monitor my kids' online activity, and as a spouse I know there are times when out of concern for my wife, I want to know where she is. In addition to using the more secure cell phone providers, what are the alternatives?
There are a few, but they all share a common characteristic: they require explicit consent.
Qustodio | Child Monitoring Software

What's the difference between Qustodio and these other mobile spy apps?
In my opinion, quite a bit.
They are based in the EU and their privacy policy clearly states how they handle data both in the EU and the USA.
Their about page actually has a picture of their team and the full names of their founders.
Finally, their software is designed to restrict and manage device usage, not spy. There's a difference.
If you're wanting to make sure you protect your children with their online activity, I recommend Qustodio as a reputable alternative.
Accountable2You | Spousal Accountability

While I recognize that some marriages are so toxic that simple accountability won't solve the issue, it's the best option if available.
There are many different kinds of accountability software, but the premise is that you and your spouse consent to accountability (either to yourselves or two trusted friends) to make sure you're not looking at porn, using certain apps, being on the screen for too long, or being where you shouldn't be.
This type of accountability is best used before trust has been broken, but it's still effective afterward.
If you want to prove to yourself or to your spouse that you're being faithful, that you aren't looking at porn or that you're not addicted to your device, Accountable2You is an excellent option.