Are VPNs legal in China? The legality of this kind of software is a big questions, especially no expatriate or traveler wants to get in trouble with a Communist government while in the country. So what's the real answer? Are there risks involved?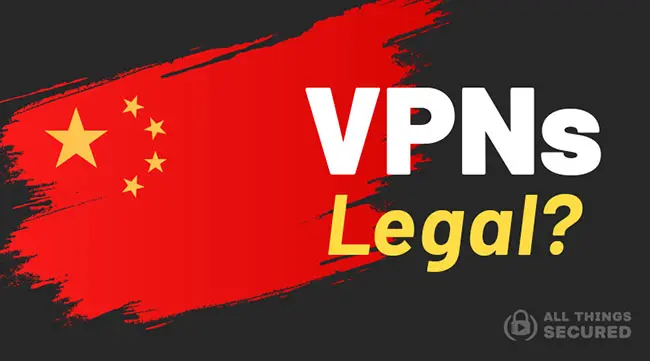 As you may already know, China is one of the worst countries when it comes to internet censorship. None of the three major social media platforms, Facebook, Twitter, and Instagram, are available in the country. Other apps like Whatsapp, Snapchat, Telegram, and Signal are also blocked.
At this point, there are so many websites and apps blocked in China that it's hard to list it all out.
As a result, a lot of people have resorted to using virtual private networks to bypass these restrictions.
What is one essential thing you should never forget when traveling, a phone charger? Well, if you are traveling to China, you'd rather forget your charger but have a working VPN on your phone and laptop.
But, here is the tricky part. If you are using a VPN, then you are undermining the government's effort to censor internet usage in the country, right?
Can this get you into trouble?
It depends on who is asking. Most international businesses in China use VPNs to facilitate secure communication with the rest of the world and it hasn't gotten them in trouble. Also, the Chinese government doesn't seem to care if international expats use them. Until now there has been no reported case of a foreigner being punished for using a VPN in China.
However, the same cannot be said about Chinese citizens who have had to deal with jail time and court fines after they were caught using VPNs.
So are VPNs legal in China? Or should they be avoided?
Note: Some of the links in this article may be affiliate links, which means that at no extra cost to you, I may be compensated if you choose to use one of the services listed. I only recommend what I personally have used, and I appreciate your support!
VPNs are (technically) Illegal in China
According to China's Ministry of Industry and Information Technology, the government body in charge of internet regulation, VPN usage in the country is a crime.
Businesses using virtual private networks are only able to do so because they have acquired approval from the government.
Moreover, in 2017 the government of China issued a directive that required the three main internet service providers in the country to block all VPN connections. This was accompanied by the removal of all VPN apps on the Apple App Store available to Chinese consumers.
Of course, it's impossible to download a VPN from the Google Play Store while in China because the service is blocked just as is the case with all the other Google services. Still, this has not prevented VPN usage in the country.
This is unlike other parts of the world. For example, the question of whether it's legal to use a VPN in the US is a bit easier to define.
But, as we have already mentioned, it's different in China and it's the Chinese citizens that could get in real trouble for using a VPN.
Foreigners and expats visiting the country having nothing to worry about. The only thing that the rules and directives against VPN usage in China have managed to do is make it harder and more frustrating for you to use a VPN.
The worst that can happen is to have your cell phone service shut down. This happened to me at the end of 2015 while staying in Xinjiang.
I had to go to the police to get help reinstating the signal. They could have arrested me but instead, all they did was go through my phone, delete all the VPN apps and foreign messaging apps before unlocking the service again.
Top Reasons Foreigners and Expats use VPNs in China
There are a number of different reasons why foreigners in China love using a VPN. Here are few of my own:
To bypass the Great Firewall of China: The main reason anybody uses a VPN in China is to bypass the insane internet censorship and access all the sites and apps that are blocked in China but easily available everywhere else. These include Facebook, Twitter, Instagram, Skype, Whatsapp, Google services, and popular websites like New York Times, the Wall Street Journal, and Wikipedia.
Stream GeoBlocked Content: Entertainments sites like Netflix, Hulu, Spotify, YouTube are all blocked in China. This can be really frustrating especially if you are looking to unwind after an exhausting day. This can easily be fixed, and you can even use a VPN to access different Netflix content libraries.
Security and privacy: A VPN encrypts all your internet traffic to protect you from surveillance by the Chinese government trying to monitor your online activities or steal sensitive information. It also hides your real IP address and assigns you a new IP address to guarantee anonymity while you surf the net.
What are the Best VPNs for China in 2023?
While a VPN is the top-recommended solution to bypass the Great Firewall of China, not all VPN services guarantee success. Most of them get detected and blocked immediately after you connect to them.
Lucky for you, I have stayed in China for more than 10 years and so I know the VPNs that work and those that don't. I've reviewed a number of VPNs on this website, but these are the ones that stand out specifically for China.
ExpressVPN | Recommended for China
For more than a decade, ExpressVPN has been consistent in bypassing the Great Firewall of China. There will be times when the Chinese government catches up with them and blocks their servers but it is ExpressVPN's swiftness to respond that impresses me.
The company is very quick to add new servers and IP addresses ensuring minimum downtime.
Speed is the next best thing about ExpressVPN. You will hardly notice that you are connected to a VPN.
This VPN supports 5 simultaneous connections on a single license and has a dedicated app for all the popular devices including the Amazon Fire TV stick, consoles, mobile phones, and laptops.
You can also choose to install it on your router and consequently all the devices you connect to that router will be VPN encrypted. The prompt and readily available customer support will also be crucial in case you have any trouble using the VPN.
Surfshark | Cheapest for China
Surfshark may be a relatively new VPN compared to other services in the market but it has proven time and again that the Great Firewall of China is no match for their camouflage mode.
The camouflage mode works by disguising VPN traffic as normal traffic so that it is undetectable by the government.
This is also the most generous VPN you will come across allowing you to connect unlimited devices with just one license. And their prices are an absolute steal.
The VPN also comes with a killswitch that will disable your internet if the VPN disconnects unexpectedly to prevent data leaks. Surfshark is compatible with all the operating systems and has a dedicated app for all the popular devices for easy installation.
NordVPN | Best Apps for China
NordVPN is another VPN that has enjoyed massive success in China. But, just like with ExpressVPN this has come at a cost. They are always being targeted by the government.
Nevertheless, the VPN has stepped up to the challenge and continues to successfully unblock restricted content in China while providing excellent speeds.
Moreover, this VPN does not kid around when it comes to security. Most notably it comes with a double VPN feature allowing you to encrypt your internet traffic twice.
It also supports Tor Over VPN connections through one click of a button. Other VPNs require that you download the TOR browser separately to enjoy this feature. (learn more about the difference between VPN and Tor here).
NordVPN supports 6 simultaneous connections on a single license.
Additional Tips for China Expats & Travelers
Even if we answer the question "Are VPNs legal in China", there are other things you have to consider. Some other quick tips I recommend include:
Download and install your preferred VPN service before entering China: Once you are in China, installing a VPN becomes a problem because all VPN services have been removed from the app store and VPN websites blocked. Make sure that you download and install the VPN on your phone or computer that you will use to access the internet.
Have multiple VPNs at the same time: There will be times when one VPN gets completely blacklisted. While the best VPNs don't take long to add new working servers, sometimes you may be on some important business and even the smallest downtime could prove costly. In this case, it pays to have another VPN installed as a backup.