In short, yes, VPNs are legal in the US. However, using a VPN to try to hide any illegal activities you do can still land you in trouble. Here's a more nuanced answer to that question, other ways that a virtual private network can be useful in America, and a listing of the best services to use here.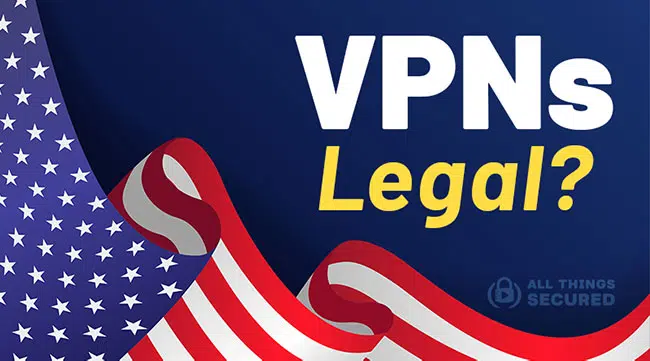 It's not like China, where censorship is normal and the question of whether a VPN is legal in China is actually quite fair.
Although there are a lot of good things to say about the US government, unfortunately, respecting people's privacy is not one of them. I mean, the country has no data regulation laws that prevent ISPs or the government from collecting people's personal data without authorization.
It's already been more than 8 years ago, but I'm pretty sure you have not forgotten the massive government surveillance program exposed by Snowden.
A virtual private network (VPN), therefore, comes as the perfect solution for anybody looking to make their online activities private.
A VPN masks your real IP address and encrypts your internet traffic to ensure that not even your ISP or government can see what you are doing online. You become an online ghost. Which explains why a lot of people worry if VPN use is legal.
So, to answer your question. Are VPNs legal in the US?
Yes, VPNs Are Legal in the USA…
The US has no written law that prohibits the use of VPNs. Period.
Consequently, you won't get arrested or prosecuted if it's determined that you are using a VPN. Which, for your information, is pretty easy to do. Anybody with the right tools can determine whether you are using a VPN and even go a step further to determine your VPN provider.
However, just because VPN use is legal in the US does not give you a free pass to commit crimes online.
BUT….VPNs Don't Make Illegal Acts Legal
Sure, no one can see what you are doing online when connected to a VPN, but don't mistake that for complete protection. Your IP address is not the only way to trace you online.
Also, depending on the magnitude of your crime, your VPN provider may be forced to collaborate with government agencies and provide user data that will assist them nab you.
Yes, I know your provider told you that they don't collect or store user data that could compromise your online identity. PureVPN also lived by the same rule. And then in 2017, they helped the FBI catch an internet stalker by providing information that led to his identification.
The company has since revised their privacy policy but the incident served as a valuable lesson.
Here are a few examples of things you shouldn't do, even under the protection of a virtual private network.
Buy and sell contraband on the dark web
Commit any form of cybercrime including hacking and cyberstalking
Upload, download, or sell pirated content
Three Best Reasons to Use a VPN in the USA
The benefits that come with using a VPN are many but, here are three main reasons you should use a VPN in the US.
To maintain general online privacy – Once you connect to a VPN it hides your real IP address and assigns you a new one that's shared by several other VPN users. This makes it very difficult for anyone to trace back your online activities back to you, offering you at least a general sense of privacy online.
Security, especially on public networks – A VPN encrypts your internet traffic, adding an extra layer of security on top of https or other end-to-end encryption. Sometimes (although not often), public areas are subject to what is known as "man in the middle" attacks (MITM) and there are some cases where a VPN can help with this.
Unlock geo-restricted entertainment content – Privacy and security may be the main reason VPNs were created but they have found a new use in accessing restricted content on streaming platforms like Netflix, Amazon Prime, YouTube, and Hulu. Research shows that more people are now using VPNs to unblock entertainment content than are using them for security and privacy.
Can the US Government See What I'm Doing on a VPN?
The US government can approach your VPN provider to get your personal data but, whether or not they get this information depends on the provider. The no-logs policy that most VPNs advertise means that they have no data to give if the government comes knocking.
It's also not true that VPNs can't be tracked – tracking can be done in a number of ways outside the security walls of a VPN.
But like we have already established, this may not always be the case and thus the decision on the best VPN to use needs to be an informed one. Don't just pick a VPN because it is cheap and hope to get the best service.
To make things easier for you, I'll go ahead and recommend the best VPNs you can use in the US right now.
Best VPNs for the USA
I have used and tested over 40 VPN services over time and I feel these three VPNs stand above the rest when it comes to using in the USA
IPVanish | Best US-Based Customer Support
IPVanish is a US-based VPN provider that ticks all the right security features and will successfully help you unblock Netflix and other streaming services.
Why would I recommend a VPN that's located in the US when the country has no strict data protection laws? Also, isn't the US part of an intelligence-sharing alliance known as the 14-eyes alliance?
Here is why, IPVanish does not collect personal information that could compromise your online identity. So, while they are legally obligated to hand out information to the government if it comes knocking, they have no information to give.
And on the upside, because the company is based in the US, they can provide swift support via phone calls. All other VPNs are limited to just chat.
Moreover, this VPN supports unlimited simultaneous connections on a single license. And as if that's not generous enough, you also get 250GB of free cloud storage with each premium subscription.
Finally, if after 30 days the VPN does not meet your expectations, you are free to ask for a refund.
ProtonVPN | Best Privacy-Focused US VPN
This is the solution for you if you want to enjoy VPN features but don't have the budget for it. ProtonVPN has a completely free version that has no monthly data limit as is usually the case.
You may already be familiar with the company thanks to their other product, ProtonMail which is one of the best secure email alternatives to Gmail. The company does not joke around when it comes to security.
Unfortunately, the free plan is only limited to three server locations which significantly affects your connection speeds due to server congestion.
Also, the free plan can't unblock Netflix or the other streaming services. For that, you will need to upgrade to the premium plan which will also allow you access to over 1000 servers among other feature upgrades.
ProtonVPN supports up to 10 simultaneous connections on a single license and offers a 7-day free trial period to test their premium plan.
ExpressVPN | Easiest to Use US VPN
ExpressVPN, the father of all VPNs. The only time you will not hear ExpressVPN being recommended in a VPN roundup is if we are talking about the best cheap VPNs.
Their services don't come cheap but they are worth it. To begin with, the speeds you get with this VPN are amazing. Also, you will have no trouble unblocking any streaming service.
For easy installation and use, ExpressVPN comes with dedicated apps for all popular platforms including Windows, Mac, Android, iOS, Linux, consoles, Amazon Fire TV Stick, and routers.
Their customer support is also among the best in the industry. Not just because they are available via email and 24/7 live chat but also because of how helpful they are. If you are having trouble unblocking Netflix, they will promptly direct you to a working server.
The VPN also comes with a 30-day money-back guarantee allowing you to get a refund if their services don't measure up.