Is it possible to set up a VPN on Apple TV 4k (2nd Gen)? The short answer is "no". Apple still doesn't allow for VPN configurations on any version of the Apple TV. However, if you're wanting to stream content from Netflix, Disney+, Hulu or any other geo-restricted service, there are other options you can try, and we're going to cover three of the most popular here.
Be sure to subscribe to the All Things Secured YouTube channel!
The video above and the written instructions below will walk you through the best alternatives for how to install a VPN on Apple TV. But you're not actually installing a VPN on the device. Instead, we're going to cover how you can:
Configure a VPN on your WiFi Router (best option)
Mirror your Apple devices onto your Apple TV (limited)
Set up SmartDNS (unreliable)
For the sake of this tutorial, I'll be using ExpressVPN as my service provider, although this certainly isn't the only option. You can check out our comparison of the best VPNs for routers. Keep in mind that pretty much any commercial VPN will work for this, I'm just showing you the one I use and recommend.
The purpose here is to provide access to content that might be blocked, such as giving you access to different Netflix libraries from around the world.
Are you not clear about the difference between the two? Check out my guide to SmartDNS here.
*Note: Some of the links found is this article are affiliate links, which means that at no extra cost to you, I may be compensated if you choose to use one of these services. I don't recommend anything I don't personally use, however, and I work with each provider to offer exclusive discounts for you, such as 3 months of free service with ExpressVPN.
Option 1: Use a VPN on Apple TV via your WiFi Router
In my experience, the best way to start using a VPN on Apple TV is to set it up on your WiFi router, the same router that you connect the Apple TV through.
Now, before you get too excited, it's very important to note that you can't install a VPN on the router that your Internet Service Provider (ISP) gave to you.
You'll need to supply your own router that allows for VPN configuration or that can be flashed. If you want some direction, here are two that I recommend: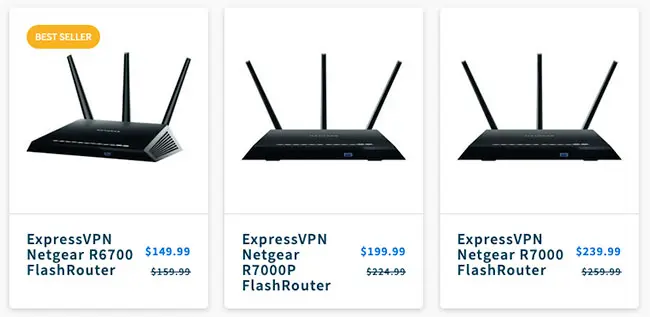 You can also purchase pre-configured routers like what you see above from Flashrouters (affiliate link).
Or, if you're ready, you can configure the VPN on your own router.
How to Setup a VPN on your WiFi Router for Apple TV
Time needed: 15 minutes
Below are the steps required to setup a VPN configuration on your WiFi router. Once you do this, any device connected to the router (not just your Apple TV) will be routed through the encrypted connection to the VPN server.
Log into your WiFi Router Admin panel

Most routers publish their login details on the device itself. You'll can access the admin dashboard through a device (a laptop computer is best) that is connected to the router either by WiFi or directly via the ethernet cable.


Find the VPN Configuration Settings in the Router

Next you need to locate the VPN configuration settings in the router dashboard. Usually this will be found on a side menu, but if you can't find it, check your router manual to make sure that they even support VPN configuration (some don't). If yours doesn't, your only option is to either flash the router or buy a new one that does allow for a VPN.



Retrieve the Configuration Settings from Your VPN Provider

Log into your VPN provider (I'm using ExpressVPN in this example) and find the "Manual Configuration" settings. You'll want to download the configuration files for the VPN server(s) you wish to load onto your router and then take note of the username and password.



Configure the Router with the VPN Files

Back in your router dashboard, create a new VPN configuration, name it whatever you want and then upload the .ovpn file that your VPN provider gave you. You'll also be prompted to provide the username and password.


Active the VPN and Connect your Apple TV!

Active the server you wish to connect to from within the router dashboard and now you've essentially got a setup where you have a VPN on Apple TV!
Option 2: Mirror Your VPN-Connected Devices to Apple TV
If you don't have a WiFi router that allows you to setup a VPN configuration, or you just don't want to buy a new one, you can always try to mirror your VPN-connected Apple devices to your Apple TV.
The process to do this is simple, but there are limitations that I'll explain below. First, you need to:
Connect your iPhone/iPad/Mac to a VPN: You still need to have a VPN app on one of your devices that you can connect to a VPN server of your choosing.
Connect to the Same Network as the Apple TV: This mirroring option only works if your device is on the same WiFi network as the Apple TV you wish to cast to.
Find the "Screen Mirroring" Button on your device: As you can see in the screenshot below, you should be able to pull down from the top right of your mobile device or find the feature in the settings of your computer. It might look like this: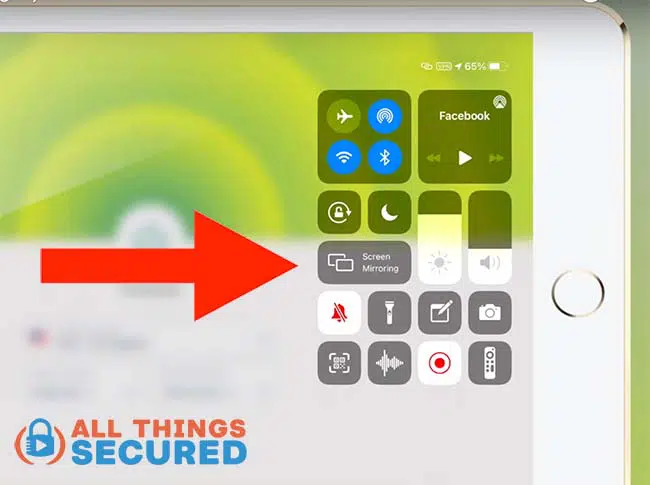 By clicking this button, you'll be given the option to mirror to an available Apple TV on the network.
At this point, you're essentially using a VPN on Apple TV, even though it's being directed through your other device.
Limitations of Screen Mirroring with a VPN
In my experience, there are a few limitations to how you can use a VPN-enabled device to display movies and shows on an Apple TV.
For example, if you try to show a Netflix show on your Apple TV through the Netflix app on your iPhone that is connected to a VPN, the Apple TV will automatically try to use it's own Netflix app to display the show through its non-VPN connection.
That's a problem.
The only workaround I've used that fixes this problem is to not use an app on your device. In other words:
Instead of using the Netflix app on your device, log into Netflix through your internet browser.
Instead of using the Disney+ app on the device, log into Disney+ through your internet browesr.
When I do this, the Apple TV seems to allow the streaming to occur through the device instead of trying to move it over to the native app on the TV platform.
The image quality isn't always as good and I've still had issues with this method, but it works more often than using the apps.
Option 3: Configure SmartDNS on Your Apple TV (WARNING!)
The final option which you'll find shared all over the internet is something known as SmartDNS.
I like to describe SmartDNS like changing the license plate on a car. When you drive up to Netflix, they check your plate and see that you're in a specific country, and then they supply the appropriate content.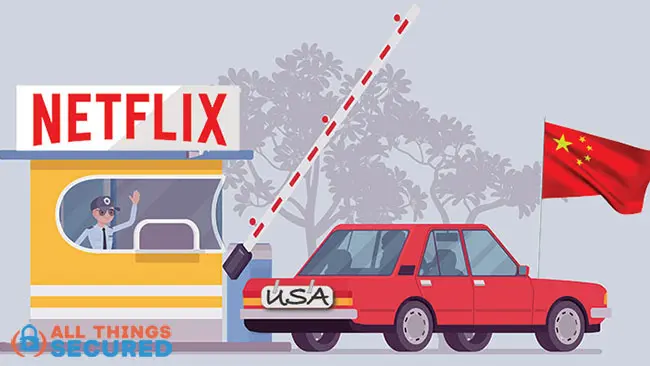 You're basically "spoofing your location", and for the longest time this method worked.
But now it doesn't…at least it doesn't for me.
I've set up SmartDNS from six different services and was never able to get one of them to work on any of the major streaming services (Netflix, Hulu, Disney+, etc.).
Try as I might, using every trick I know how, the SmartDNS setup was never able to spoof the location so that the streaming services allowed me to view a different library of shows.
Perhaps you'll have different results than I did. But for me, it has worked much better to either setup a VPN on the router or mirror a device to my Apple TV.
Frequently Asked Questions: Apple TV & VPNs
I get a lot of emails about installing a VPN on Apple TV. Hopefully you'll benefit from getting answers to these frequently asked questions.
Some of this information has already been covered above, but is included here for the sake of brevity.
Can I use a VPN with Apple TV?
While Apple does not support the installation of VPN software directly, it is still possible to install the VPN on your wireless router or mirroring a VPN-connected device to your Apple TV, effectively giving you access to geoblocked content.
Which VPN works with Apple TV?
While most any VPN can be installed on a WiFi router, the best VPNs for Apple TV offer extensive manual setup options. Those that do include ExpressVPN, IPVanish, Surfshark and others.
Can I Use NordVPN for Apple TV?
Yes, you can, but only by doing a manual configuration of their VPN server on your WiFi router. They do not have a native app on the Apple TV that allows you to easily connect to their service. The same is true for every other VPN.
Can I travel with my Apple TV?
If you want to use your Apple TV while you travel internationally, you'll need to make sure that you not only have access to WiFi, but that you also bring along your own WiFi router that allows you to configure a VPN server connection.
Does a VPN change the GPS location?
No, a VPN changes your IP address, but not the perceived GPS location of your device. This is why you need more than a VPN for this bypass YouTube TV location hack.
Final Thoughts | Setup VPN on Apple TV
It may look complicated, but I promise you it isn't. Setting up a VPN on Apple TV, or rather on your router or via mirroring, requires a bit of initial set up.
After that, though, everything is basically "set it and forget it."
Once you do that, it will be possible to watch The Big Bang Theory on Netflix, sports, and plenty of other great, geo-restricted content on your Apple TV.
As I said above, I used ExpressVPN for this example just to make things easy (click here to get 3 months of free ExpressVPN service!). There are many other VPN services that will work on an Apple TV. Just make sure that they also offer Smart DNS services.
If you have any questions about setting up a VPN on Apple TV, please leave a comment below. Enjoy!