Black Friday (Nov 24th) is coming up, which means that now is the ideal time of the year to lock in the lowest prices on recommended privacy and security products. I'm going to share with you the best Black Friday deals I've found based on five different categories.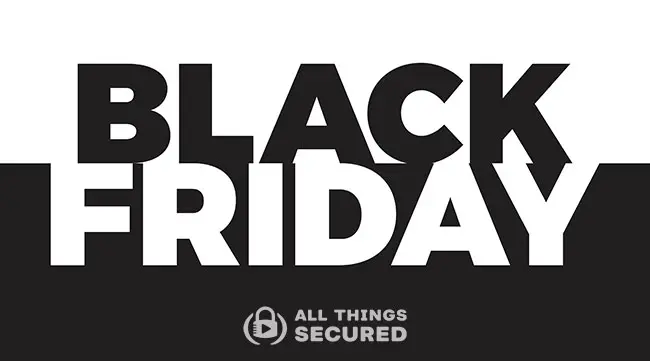 *the links in this article are affiliate links, which means that I may be compensated if you choose to use any of these services. I only share and recommend what I personally use and I appreciate your support!
You can skip down to one of the security categories using the table of contents below:
Encrypted Email (Save 33%)
When it comes to rating the best encrypted email services, Proton Mail is the one I personally use and heartily recommend. It's easy to use, offers helpful migration tools, and it keeps all your communications end-to-end encrypted.
From now until December 4, Proton is offering 33% off Proton Mail, which brings it the monthly price down from $5/mo to $3.33. While you're at it, it's worth considering the Unlimited plan I use, which is reduced from $13/mo to only $8.69/mo.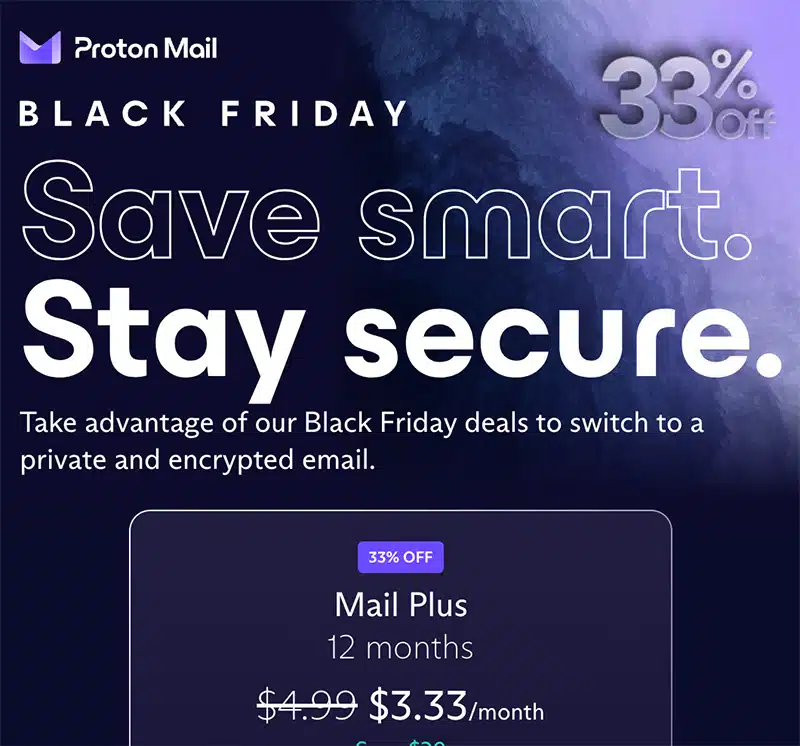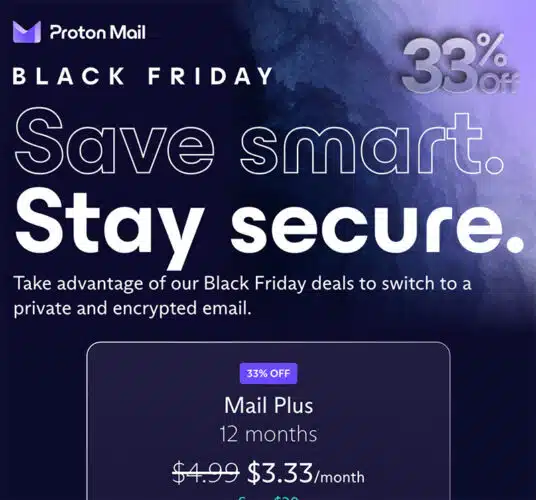 I use and recommend Proton products – their VPN, email, calendar, cloud storage, etc. – because of their strong commitment to privacy. They make the best alternative to Google products and it's so easy to switch over.
Start Encrypting Your Email
Get 33% off any plan
Encrypted Cloud Storage (Save $100)
If you're still using Google Drive, OneDrive or Dropbox to store all your files and backups online, consider this: none of them offer end-to-end encryption on your data. Your data is encrypted, but each company keeps their own copy of the key for safe keeping.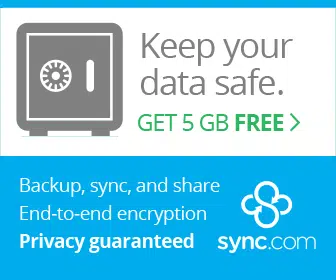 For this reason, Sync.com remains one of my favorite stand-alone alternatives for cloud storage.
Whether you need an individual plan or a teams plan for your small business, this $100 Black Friday offer amounts to at least 5 months free. Sync plans allow you to:
Store 6TB of backups encrypted online;
Total end-to-end encryption for all data;
Secure ways to share the files you're storing;
Money-back guarantee.
Better Cloud Encryption
Save $100
Identity Monitoring (Save 40%)
I've said it before and I'll say it again: not everybody needs identity monitoring. For most, simply freezing your credit goes a long way to protecting your identity.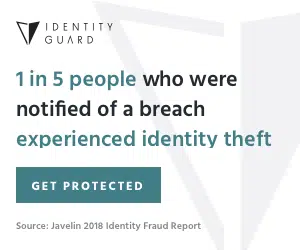 However, if you've had your identity stolen in the past or if you fear that your personal information has been compromised in some way, it's worth taking at least a year to have your identity monitored.
I use and recommend Identity Guard because they've worked the best for me AND they monitor your data in many places including:
Your credit at all 3 major credit bureaus;
The dark web;
Various data breaches;
Your bank account transactions;
Your monthly credit score;
Again, if this kind of service is required for you, this Black Friday deals takes their $20/mo plan and makes it only $12/mo.
Protect Your Identity Online
Get 40% off any plan
Data Deletion Services (20% off)
Over the years, I've published numerous tips on how to make yourself invisible online. No matter when you start, it's always a good idea to limit what you share online and strengthen your social media privacy settings.
But no matter how good you are, almost nobody can escape the fact that there are data brokers who are constantly scraping data about you and selling it online. This includes your mobile phone number, your address, your financials and even court records.
I use and recommend DeleteMe to help you scour the internet to find your information and make requests to remove the personal data. They save you hundreds of hours that it would take to find this same info and request removal on your own.
Erase Your Data Online!
Save 20% off
If you want to understand more about how this kind of service works, take a moment to read my full DeleteMe review.
VPN Black Friday Deals (up to 80% off)
Every single VPN on the market is going to be running some kind of Black Friday promotion this year. The problem is that it's hard to compare because they all run different savings based on a number of years of service and then throw in "x months free!".
Instead of worrying about the exact dollar amount saved, my suggestion is to simply choose a VPN based on what you need and just know that Black Friday is going to provide the best savings.
Here's what I recommend:
ProtonVPN (60% off): If you're using a VPN for privacy, this is my recommendation. I like how Proton handles data protection, owns their own servers and offers "Secure Core" and "MultiHop" options.
NordVPN (65% off): Whenever my family wants to stream content from our home overseas or hide our IP address, NordVPN is the service we open and use. They offer the widest selection of servers in many countries.
Surfshark (80% off): Finally, for those who are gamers or streamers, I've had consistently great speeds using Surfshark, so that's what I tend to recommend for those use cases.
Final Thoughts
It's tempting to buy things you don't need during the holiday season, I know. So please don't go spending money on Black Friday promotions just because they're a good deal.
Take a moment to consider what part of your security and privacy is lacking, and use this as an opportunity to fill those gaps. Happy holidays!