Is Google Drive secure? When it comes to Google, which is a company that profits off of user data, it's natural to have privacy concerns. This is especially true when you consider storing sensitive personal or company documents. So how secure is Google Drive in 2023? And is it possible to encrypt documents there?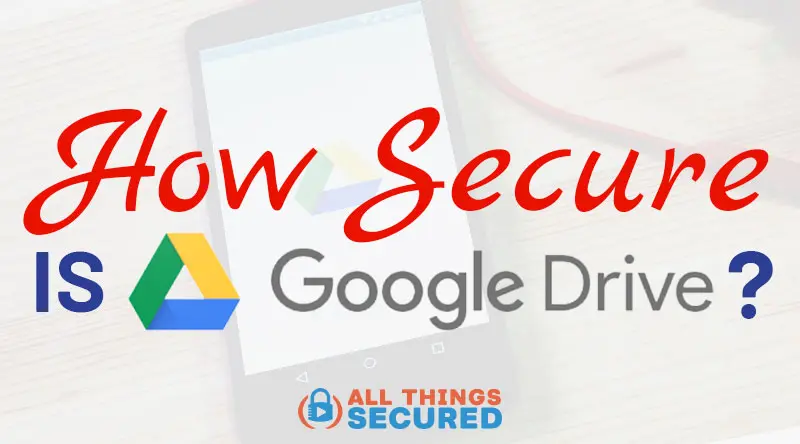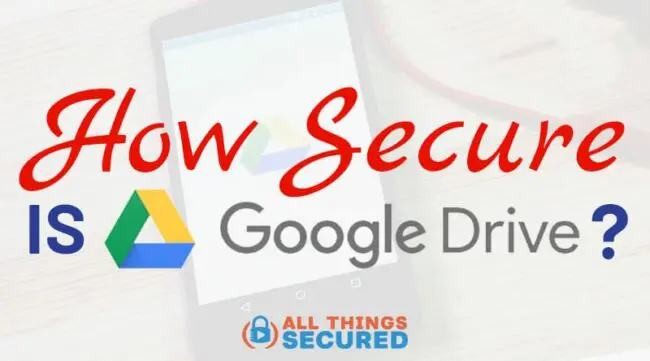 Google Drive lets you store your data in "the cloud".
Of course, when we say cloud, we really mean that your data is stored on Google servers all over the world.
When you store your data on someone else's servers, it's important to consider the kind of security they offer. This becomes even more important if you're planning to save your business documents and files there.
Does Google offer enough security for your personal or corporate files?
As a major tech company, users expect the best security from Google.
However, the size and importance of Google also make it a lucrative target for hackers.
If you have concerns about security and encryption with Google Drive, the best thing you can do is educate yourself on Google's security features before you store your files there.
Below we're going to cover:
My hope is that, by the end, you'll be well-informed about the possible risks and how to mitigate them.
You'll also have an answer to the important question: How secure is Google Drive?
Note: This article may have affiliate links, which means that at no extra cost to you, I may be compensated if you choose to use a service listed.
What Kind of Encryption Does Google Drive Offer?
Google Drive uses 256-bit SSL/TLS encryption for files in transit and 128-bit AES keys for files at rest.
In layman's terms, this means that Google uses a stronger encryption (256-bit) when you're uploading, downloading or accessing the files which are stored on Google Drive.
When they're not being messed with, a lesser-but-still-strong 128 bit encryption is used.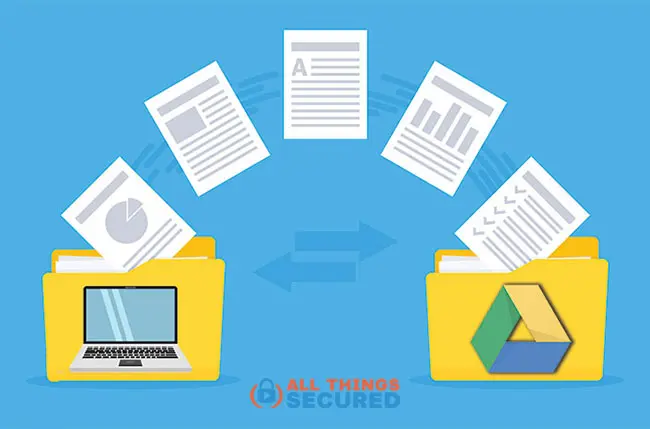 Why have two different security encryption standards? It can be explained this way:
Data in motion is data at greatest risk.

Entrepreneur.com
To be clear, data stored anywhere, even on your own computer, is never 100% secure.
However, when that data is being transferred over the open internet, that is when the threat is most real.
A hacker that's lurking on your network (public or private) can intercept data as it is sent from your computer to the Google Drive server. The level of encryption determines how easy/hard it will be for them to decrypt what they gather.
Google promotes the fact that they use multiple layers to protect user data. When storing your data, it is broken into chunks so that each chunk isn't useful by itself.
When a user updates a document or file on Google Drive, that particular chunk is updated and a new security key is used to encrypt it. Since the old key is discarded, it enhances its security.
Also, each data chunk is encrypted using a different key, which means it will take several attempts to hack a person's entire data.
So far so good.
But what does this mean when we're asking about how secure is Google Drive?
Server-Side vs User-Side Encryption
Google Drive encryption is done on the server-side. This means that the decryption keys lie with the service provider, which is Google.
In other words…
You have all your security eggs in the Google Drive security basket.
It's for this reason that I often advocate that people try to reduce their reliance on Google products. They're great products, but you don't want to rely on one single company.
Security experts often recommend you encrypt the data on your side as well (more on this below). If the encryption keys are with you, a hacker who breaches the servers won't be able to read the data because they won't have access to the keys.
In other words, instead of handing Google your raw data and then worrying about how secure is Google Drive, you're handing them a locked box.
It's a safe within a safe.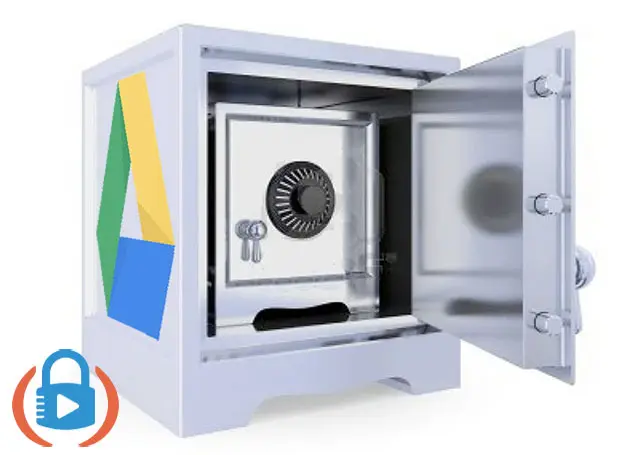 Is Google Drive secure? Honestly, that's up to you and how you choose to encrypt your files on the cloud storage.
How to Encrypt a File on Google Drive
There are a number of different ways that you can encrypt your data before you store it in Google Drive. This is called "client-side encryption" and it's what gives you control of your own security keys.
Note: All of these are third-party programs that are completely separate from Google. If you're really asking the question "Is Google Drive secure?", then they're worth looking into.
Let's discuss the two most popular options.
Boxcryptor File Encryption **Recommended**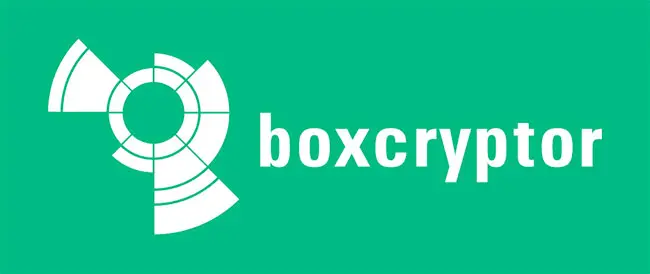 Boxcryptor is an encryption solution available for individuals as well as companies that will help make your Google Drive secure.
Best of all, if you're an individual user, they offer a free plan that lets you encrypt your files for one cloud provider.
You've got no excuse now!
For those companies looking for a good encryption tool, the Company and Enterprise package are very reasonably priced.
Boxcryptor uses AES-256 bit encryption to keep your files secure. It's also a "zero-knowledge encryption", which means that even Boxcryptor doesn't have the key to unlock the data you secure.
You control the encryption key.
Not Boxcryptor…
…and definitely not Google.
Although originally developed for Dropbox (hence the "Box" in the name), they now work well with Google Drive, including with Google's Backup and Sync program.
If you're storing any level of sensitive documents in Google Drive, I highly recommend you start using Boxcryptor. It takes a few minutes to set up, but then it's mostly set-and-forget.
Cryptomator – Open Source Option


Cryptomator is an excellent open source option for securing your Google Drive files that runs on donations.
This is great for somebody who is tech-savvy, but not so much if you're the kind of person who wants customer support and a simple interface.
Cryptomator offers plans for individual clients as well as enterprises. Just like Boxcryptor, Cryptomator creates a virtual drive where all your encrypted data is stored.
When you add something to that virtual drive, it gets encrypted automatically. With Cryptomator, you can create vaults in your cloud account. Such vaults can only be opened by a vault password.
To use Cryptomator to make Google Drive secure, simply create a new vault in your drive. Drag and drop any file in that vault. This file will automatically be encrypted.
You can add sensitive data to a vault before putting it on Google Drive.
All files are encrypted using the standard, secure AES encryption. While it is an amazing software tool, it runs on donations. You can make a donation of any amount on their website.
Cryptomator or Boxcryptor?
Privacy Concerns Related to Google
Google knows a lot about us, probably a lot more than you'd be comfortable with. For example, they know…
what we search for…
where we travel…
whom we travel with…
the events on our calendar…
our contacts…
…and the products we are interested in.
We willingly give up this information in exchange for the valuable, free services that Google provides.
If you ask most people, they'd say it's probably worth it.
However, if we had an idea of how much of our data is captured by Google, we might feel differently.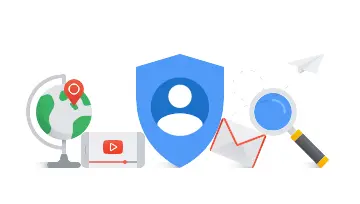 Data capturing is annoying, but it's a serious matter when you're operating a business. There are certain company details that you don't want others to know about.
The more we use Google, the more information we provide them.
Recently, the tech giant announced that it will be easier to delete personal data from Google now. For this, you'll need to visit the settings and make some changes to delete your data from Google.
Google knows that most people will not do that.
Google certainly won't delete anything on its own automatically.
It will give this control to you because it knows most people won't be troubled to do it.
Privacy is Up to You
Companies like Google and Facebook cannot survive without our data, and their entire profit model is based on the data they get from us.
Many of us use Gmail for emailing purposes (there are other secure email providers, though).
We use the Chrome browser (quick side note: stop using Chrome!!!!).
We watch videos on YouTube.
There are so many services we use from Google. Sometimes it's not a matter of how secure is Google Drive; it's also a matter of asking how much we're actually giving Google.
Instead of depending on Google for everything, you should consider using different services from different companies. For example, you can use Vimeo or Metacafe instead of YouTube. Instead of using Google to search for something, you can use DuckDuckGo or Swisscows.
Similarly, instead of using Google Drive to store your data, you might want to try some other cloud services. Let's take a look at some alternatives you can use.
Best Google Drive Alternatives for Secure Online Storage
Again – I'm not saying that Google Drive is bad. I use Google Drive and I love how it functions.
However, if everything you use is Google owned and operated, it might not be a bad idea to diversify. Like I said above, it's less about answering the question "Is Google Drive secure?" and more about being proactive about your data security.
It's worth considering an additional question: how secure is Google Drive compared to alternatives?
Dropbox – Mainstream Alternative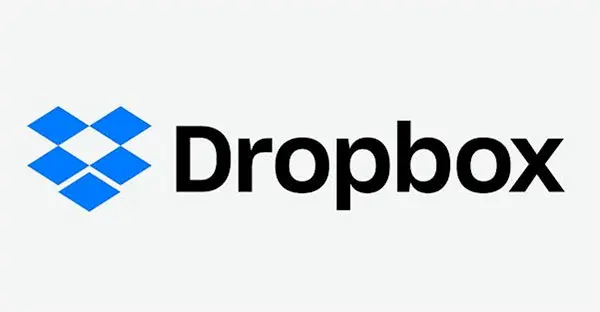 The first name that pops into most people's minds for cloud services is Dropbox. It is very popular and is a good alternative to Google Drive.
Primary benefits include it's ease of use and the ability to organize your team's content in a central place where everyone can access it.
It is available for a number of operating systems including Windows, Mac, iPhone, and Android, and it comes with a free plan for individual users.
Dropbox lets you store your files in the cloud and collaborate with your team anywhere and anytime, exactly like Drive does.
While Dropbox does secure the data, it has been subject to data breaches in the past. For this reason, you'll still want to consider encrypting the files for cloud storage.
OneDrive Secure Online Storage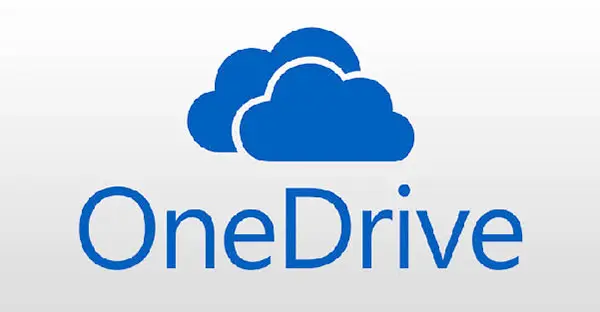 OneDrive is offered by Microsoft and is conveniently integrated with the MS Office suite. If you're a regular user of programs like Word, Excel, and PowerPoint, OneDrive can be the right choice for you as it fits in perfectly with them.
There is a basic free plan from OneDrive that lets you store 5GB of data. There are other plans for individuals as well as companies.
OneDrive offers a personal vault that acts as an additional layer of security. The vault is limited for basic plans and unlimited for premium accounts.
There have been cases of data breaches on OneDrive as well, which is why third-party tools for file encryption are still recommended.
Tresorit – Best Corporate Solution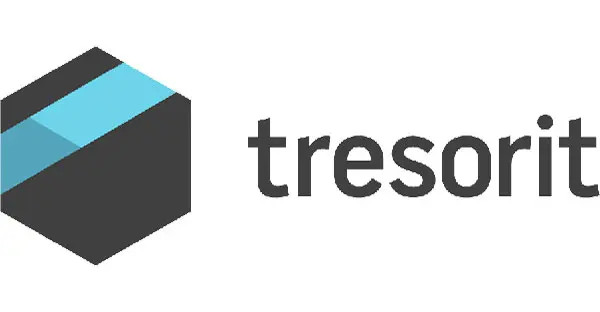 Tresorit is an online storage solution that bills itself as the solution with the most "enhanced security and data security for businesses".
It uses military grade encryption and public key cryptography. The best thing about Tresorit is that all your files are end-to-end encrypted and nobody knows what you're storing in the cloud, not even Tresorit.
This is what separates Tresorit from the likes of Dropbox, Google Drive and OneDrive.
Tresorit won't integrate with applications such as MS Word because third party apps don't support zero-knowledge encryption. This is why you won't be able to edit files in Tresorit. You also won't be able to stream media.
If you're looking for a simpler option that lets you work on the files from within the cloud, Dropbox would be a better option. But if you're looking for security, Tresorit is better.
Of course, this added security also comes at a price. Tresorit is the more expensive of these cloud storage providers.
As a business, however, this may be the best option and the best alternative if you're worried about how secure is Google Drive.
Final Thoughts | Is Google Drive Secure?
Google encrypts your files when you store them on Drive. However, the problem is that the keys still remain with the company.
Is Google Drive secure?
When you upload your files, they are encrypted using 256-bit SSL/TLS encryption. But when the data arrives at Google, it is decrypted for a bit.
Google decrypts the files to scan through them before it re-encrypts and stores them. This opens your data to two risks:
Your files are being read by Google. As you already know, they harvest your data for their own purposes. So while the company might be keeping your files secure, they are certainly not private.
A hacker can use this small window and steal that data. While the decryption and re-encryption are done quickly, there is still a chance for the data to be stolen by malicious entities.
It's for this reason that security experts recommend the use of a client-side encryption such as Boxcryptor. Even if a hacker does gain access to the Google servers, what they will find is encrypted files for which even Google has no keys.
There are alternatives to Google Drive, but most of them face the same problem. The only exception is Tresorit, which offers end-to-end encryption aimed at businesses.
Two more things to keep in mind as you go forward with this information:
When uploading or downloading data from the cloud, it's advisable to add another layer of encryption to your network connection using a quality Virtual Private Network, or VPN.
As you secure your online accounts, including Google Drive, Dropbox or whatever you choose, make sure you activate 2-factor authentication. It doesn't matter how well your files are locked if it's easy to steal the key.
How secure is Google Drive? As with any software, no one tool will keep you 100% secure. Online security is a mindset and it takes effort to make sure your data is protected in the cloud.
The added privacy, however, is worth the cost.