As you do your research before purchasing a VPN, I'd like to help you compare IPVanish vs NordVPN. By comparing these two services, you'll be able to see similarities and primary differences to make an informed decision as to which is worth your time and investment.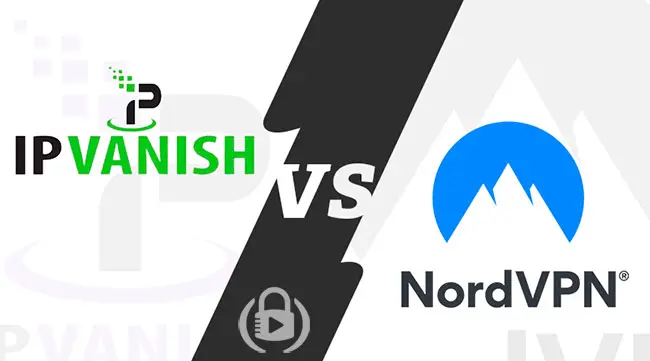 As you search for the best VPN for 2023, you've probably noticed the same brand names popping up again and again. IPVanish and NordVPN are two respected companies that are well-known in the VPN world.
They're both excellent, but unless you want to pay for two subscriptions, you obviously need to choose one.
Ultimately, it's up to you to choose which VPN best suits your needs.
To help you with that decision, we're going to cover IPVanish vs NordVPN in the following areas:
Before you jump down to the final verdict, let's take a side-by-side look at the various features that we're going to discuss in detail further below.
Note: Some of the links in this article may be affiliate links, which means that at no extra cost to you, I may be compensated if you choose to use one of the services listed. I only recommend what I personally have used, and I appreciate your support!
Comparing IPVanish vs NordVPN in 2023
To help you visually compare these two virtual private networks, here's a quick chart to see the similarities and differences between IPVanish and NordVPN.
NordVPN
IPVanish
Based in:
Panama
United States
Privacy measures:
RAM-based servers & independent audits;
No logs claim, very clear privacy policy;
Available Protocols:
WireGuard, OpenVPN,
IKEv2
WireGuard, OpenVPN,
IKEv2, L2TP, IPSEC
Server coverage:
60 countries
51 countries
Simultaneous Devices:
Six (6)
Unlimited
Torrenting allowed?
Yes
Yes
Pricing:
US$60/yr
NordVPN Deals
US$48/yr*
IPVanish Deals
*this pricing is only for the first year; the second year is US$90/yr
This is a very limited snapshot, admittedly. To get a real sense of the similarities and differences between IPVanish and NordVPN, let's first dive into the two most important characteristics of any virtual private network:
Privacy and security.
Privacy Measures Compared
Although VPNs weren't initially developed to protect your privacy, most consumers still see privacy as a primary objective of a VPN.
So, how do the two VPNs in question perform on this front?
IPVanish Privacy Protections: The company is based in the USA and while that immediately raises concerns for some people, the fact is that since 2012 (when IP Vanish was established), it has never been a problem. While they've never handed over user data and maintain a "no logs" policy, they're also subject to US laws and regulations. This is a kind of accountability that most VPNs don't have. I've explained this more in my IPVanish review, but suffice to say, IPVanish has a proven track record for respecting user privacy.
NordVPN Privacy Protections: This company is based in Panama, which many VPN review sites claim offers better privacy, but they also have no accountability. To counter this, they have voluntarily submitted to audits by a third-party firm to confirm that indeed they don't store user logs. More importantly, though, NordVPN has RAM-based servers and they also accept cryptocurrency payments.
NordVPN's RAM-based servers, 3rd-party audits and anonymous payment methods edge out IPVanish in terms of privacy.
Security Features Compared
The most important factor to consider when measuring a VPN's security capabilities is the encryption standard it uses and the supported connection protocols.
Top VPNs should also come with a kill switch that will automatically disable your internet if the VPN disconnects unexpectedly to prevent your unencrypted data from leaking.
Here's how it looks with IPVanish vs NordVPN:
NordVPN uses AES 256-bit encryption in addition to standard protocols like OpenVPN and IKEv2. They also allow you to enable double VPN connections, Onion over VPN, DNS leak protection and more. Nord also has their NordLynx protocol built off the new Wireguard protocol, a protocol which offers better speed and security.
IPVanish also uses AES 256-bit encryption through the OpenVPN, IKEv2, L2TP and IPSEC protocols. As of this last year, they've also added Wireguard as an option. Additional security features include a kill switch and DNS leak protection.
Both VPNs use standard encryption with options for OpenVPN and Wireguard, two of the most widely accepted standards in the industry.
Performance and Speed
It is expected that a VPN will slow down your internet speed because of encryption and also because your data has to pass through the VPN servers before reaching the web servers.
The key is to ensure that the VPN does not slow down your internet to a point that even browsing becomes a problem. So do NordVPN vs IPVanish compare?
NordVPN has proven very effective at allowing me to watch streaming content over the past 4 years, which, as you may know, is one of the primary reason people are using VPNs nowadays. NordVPN works well unblock georestricted content from services like Netflix, BBC, Amazon Prime, Hulu, Disney+ and more.
IPVanish also performs exceptionally well when it comes to speed, which is why it's rated as one of the best VPNs for gaming. You don't have to worry about poor video quality or buffering when streaming. That said, while IPVanish can easily unblock Netflix in the US, it has a harder time unblocking other services (i.e. BBC iPlayer) in other countries.
If speed is most important to you (gaming), then IPVanish is best; if streaming global content is your thing, then NordVPN will be your best bet.
Server Coverage | NordVPN vs IPVanish
A high number of VPN servers is important because it prevents congestion on one server which would lead to competition for bandwidth and consequently slow internet speeds.
However, what's even more important is how the servers have been distributed. A VPN that has servers in multiple locations around the globe will give you unlimited access to geo-blocked content and it also increases your chances of finding a server that is geographically near you.
NordVPN comes with an impressive 5,400 servers distributed across 60 countries.
IPVanish, on the other hand, has 2,000+ servers distributed in 51 countries.
While the number of servers is a vanity metric, NordVPN has coverage in a few more countries than IPVanish.
Additional Feature Comparisons
In addition to the above features comparisons, here are a few additional features worth mentioning when comparing IPVanish vs NordVPN:
Multi-platform support: Both VPNs support all the popular operating systems which include Android, iOS, macOS, Windows, and Linux. However, while NordVPN has a command-line installer for Linux, you will have to resort to manual installation if you want to use IPVanish on Linux.
Split-tunnelling: This is a feature that allows you to use a virtual private network for specific apps while you browse without encryption on others. Both IPvanish and NordVPN support the VPN split-tunneling feature.
Torrenting Support: Both companies support torrenting. However, IPVanish will be the better option if you are a torrent freak because it supports P2P sharing on all servers. NordVPN only allows torrenting on about 20% of its servers but it will automatically connect to the fastest one if it detects torrent traffic on your device.
Server Obfuscation: To overcome bans or censorship set up by governments and countries, VPNs use a technology known as "obfuscation". Essentially, this is the ability to disguise VPN traffic to look like normal traffic. Both solutions have this ability but according to IPVanish, you may have trouble using their apps in China and other countries that ban VPNs. I've had similar problems with NordVPN in China before, but this is common among all services.
Customer Support: Both IPVanish and NordVPN offer support through email and a 24/7 live chat option. If you're in the USA, IPVanish goes above and beyond by offering phone support as well – a feature I've seen with no other VPN service on the market today.
Pricing: Both services are available in three plans. The difference is negligible when comparing their monthly plans but it becomes clearer as you go for the longer-term plans. The NordVPN 2-year plan gives you the best value at $3.71 per month while the IPVanish annual price is the best priced at $2.91 per month.
Simultaneous Connections: IPVanish wins hands down here. It allows unlimited simultaneous connections on a single license while NordVPN supports 6 devices only.
Refund Policy: Both VPNs come with a 30-day money-back guarantee. If during this period the software does not meet your expectations, you get all your money back.
Ease of Use: I find NordVPN apps to be more user friendly, honestly. I noted in my earlier review that while IPVanish has an excellent service, the software looks like it needs to be updated. For a first time user who doesn't consider themselves tech-savvy, IPVanish may seem intimidating.
What Makes NordVPN Better Than IPVanish?
So based on what's been shared above, why would you choose NordVPN over IPVanish? Here are a few specific reasons:
Advanced security features consisting of double encryption and Tor over VPN;
It does not store user data on their servers because they are RAM-based;
Accepts payment via Bitcoin;
Supports NordLynx connection protocol which is based on the cutting-edge Wireguard protocol;
Offers IPv6 leak protection;
They offer CyberSec, an ad-blocking and malware detecting technology to allow you to surf the internet safely;
Can unblock all the popular streaming services;
Has more servers and wider global coverage;
Can be used to access the internet in countries with high internet censorship like China;
Can easily be installed on Linux through a Command Line Interface;
More user-friendly;
Convinced to try NordVPN? Use this affiliate link to get their best offer on a multi-year plan.
What Makes IPVanish Better Than NordVPN?
Of course, IPVanish has a leg up on a few features that may make it attractive to a different group of users.
Offers 250GB of free secure cloud storage with every plan you purchase (via SugarSync);
It supports torrenting on all its servers;
Generally faster servers offer a better gaming or torrenting experience;
Offers phone call support (US only);
It is the cheaper of the two;
Supports unlimited devices on a single license;
Their apps allow more customization;
If you'd like to give IPVanish a try, use this affiliate links to get a discount on their annual plan:
Which is Better | IPVanish or NordVPN?
Which one of the two should you choose? Honestly, I use and enjoy them both, and they both offer very similar benefits.
The differences are minor, which means that it's really up to you. Do you trust NordVPN or IPVanish?
Based strictly on the comparison above, it seems the NordVPN might have a slight edge over IPVanish, but it's very minimal.
But, the bottom line is both VPN services are excellent choices, and you are guaranteed security and anonymity every time you are online.